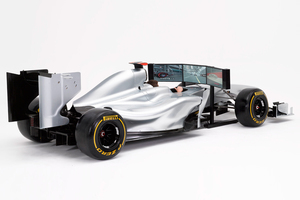 Now, The Good Oil is undoubtedly a fan of a good racing video game and while most of us make do with a couch and the standard controller - or maybe a steering wheel and pedals set-up - there are those who take things to the extreme.
Witness the latest offering from UK retailer Costco; a life-size Formula One car simulator that comes complete with three 23-inch screens, a 5.1 digital speaker surround sound system, and a custom high-end PC to run things.
The car is the full carbon-fibre/aluminium real-deal (or as close as you will ever get) F1 car, with working brakes (a choice of AP Racing or Brembo) and all. It comes shod with a set of Pirelli F1 "travel/show" tyres. The only thing it lacks is an engine and transmission.
Weighing in at £89,999.89 ($168,000), the simulator can be had in either silver, red or black and the price includes delivery and set-up. That's only in the UK, if you were wondering.
Ridiculous, excessive and needlessly showy? Most definitely. Do we want one? More than anything ...

Touch of reality's unreal
You may well consider The Good Oil either a masochist or a bit weird for admitting this, but we rather like the mental little Abarth interpretations of the diminutive Fiat 500 the
punishingly hard ride is made all the more acceptable by the fact that they are simply barking mad and verging on being feral.
Now there is an even better (by that we mean more mental) version! The bad news, though, is it is for the track only. Even worse, it will be driven by the stars of a ... sigh ...''reality'' TV show.
Last year the Make It Your Race competition ran across six European countries and attracted 30,000 applications. This year the concept has been opened up to designers, bloggers, grid girls and mechanics.

We lost interest when we read the phrase ''it's a scripted reality show''. But just look at the car they will be racing! The Abarth 500 Assetto Corse races in the one-make Trofeo 500 series in Europe and is awesome. That is all you need to know just look at it!

No obstacle for supercar owner ...
We all hate speed bumps. But supercar owners would no doubt hate them more than most. Think about it: all that hideously expensive carbon fibre sphincter-clenchingly close to a big chunk of unyielding asphalt ...
But one supercar owner in Norway has done something about it; he called his local council and got them to remove a speed bump that was on the road to his house. Apparently there is but a single Lexus LFA in Norway and the owner was decidedly miffed by the fact that there was a speed bump that his Japanese supercar couldn't clear. Rather than find a different way to go, his solution was to pick up the phone and ask the council to remove it. Which they did.
To be honest, we are not sure whether this should offend us because the council simply did what a very rich man asked, or we should be hugely impressed because he reportedly uses his LFA as an everyday driver. We are leaning towards the latter.

Bond beaten
The car James Bond drove in Goldfinger is no longer the most expensive Aston Martin, following a recent auction at the company's Newport Pagnell factory.
The record of 2.9 million ($5.4 million) paid in 2010 for a silver DB4 driven by Sean Connery in Goldfinger was beaten by 3.2 million paid for a one-of-a-kind DB4 GT ''Jet'' Coupe at the recent auction.
The Jet was created for the 1961 Geneva motor show and has resided in a private Collection for the last 25 years.

Why Lego is so awesome
A bloke calling himself Sheepo makes custom creations out of Lego, including a Porsche 911 and a Bugatti Veyron. His latest creation is truly impressive.
Sheepo has built a fully operational 1/7th scale Caterham Seven, complete with steering, double wishbone front suspension, three-link De Dion rear suspension, five-speed sequential transmission and disc brakes. The video and high-res pictures on his website www.sheepo.es are impressive indeed. How does someone have that much patience?

We are the world
*A man in China recently tried a cunning plan to avoid paying tolls: he painted his truck to look like an army truck and tried to pass it off as a top-secret missile hauler.
Unfortunately for him, the toll booth operator didn't believe him and checked with the Chinese military. The truck driver is now in a lot of trouble.
*Okay, it had to happen. Just like The Good Oil (admittedly sarcastically) predicted a while back, the Dubai police force has added a Bugatti Veyron to its fleet of marked patrol cars. The Super VW joins a Lamborghini Aventador, Ferrari FF, Mercedes AMG SLS, Bentley Continental GT and Aston Martin One-77. It just keeps getting sillier and sillier ...
*Toronto Mayor Rob Ford recently abandoned an important community meeting to wander around the carpark putting ''Rob Ford for Mayor'' fridge magnets on cars. Apparently this violates a number of city bylaws preventing the ''depositing of handbills on vehicles'' and he could face a $100 fine.

Number Crunching
5 The number of Bond films the iconic Aston Martin DB5 has appeared in.
3 Bonds: Only Sean Connery, Pierce Brosnan and Daniel Craig have driven the DB5 as James Bond.
4 The most Bond films one make has appeared in. That make? Ford. And that is not counting the Astons.
11 Bond has also driven the V8 Vantage, Vanquish and two different generations of DBS in the films, making for a grand total of nine appearances for Aston.