Kiwi driver has Monte Carlo ace Webber to help him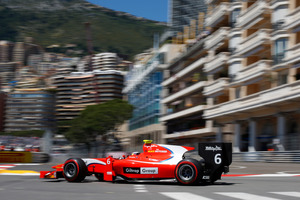 If you want someone to help figure out how to attack the tightest, twistiest circuit in motor racing, you couldn't go past the guy who's won the Formula One GP there twice in the last three years.
So Mitch Evans is pretty fortunate to have his manager - Red Bull Racing's Mark Webber - in his corner as the GP2 series join the big boys of Formula One at the most famous and dramatic circuit in motor racing.
Held on the streets, around the casino, through the seafront tunnel and past the glitzy and glamorous hotels and restaurants since 1929, it's the trickiest track for a number of reasons.
Qualifying times are important because there is almost nowhere to pass and the race can become a procession. The streets are open to the rich and famous in their Rollers and Lamborghinis - that's what passes for everyday traffic in these parts - right up to the start of the race, and again in the evenings. The surface is constantly changing.
Monaco does not forgive mistakes. With very little run-off, any misjudgment usually ends up against the barriers.
But the 18-year-old Aucklander is looking forward to the weekend. "I was quick there last year and I know the track. We need to get a good qualifying lap in and avoid any red or yellow flags as the sessions are quite short."
But, Evans says, "the track changes year by year with surface, Armco and kerb changes so watching footage from last year only helps a bit. Watching Senna going around there is amazing but the track has changed quite a bit since then unfortunately. "I'll definitely be looking at Mark's pole lap from last year and anyone else's pole lap in the last few years. It's good to study their lines, braking and turning points.
"Mark has won at Monaco twice in the last three years so he knows how to go fast here. Sebastien Vettel won here also so the Red Bull cars have been dominant recently."
The car has to be working at its best in Monaco or a driver will be nowhere come race day. Evans picked up a fourth and fifth last year in GP3 and will have his work cut out this time around.
A GP2 car has a lot more downforce and power than his previous steed; entering the infamous tunnel near flat-out will be a new experience for him.
"Not only is the tunnel going to be a bit of an eye-opener, heading up towards the casino at 270km/h is going to be a bit of wakeup call as well. I thought it was quite quick in a GP3 car but it'll be a massive buzz in a GP2 car," said Evans.
He knows that to win at Monaco you have start at the front. Drivers only get two 14-minute qualifying sessions so Evans needs to have all his ducks in a row as he exits pit lane to set his qualifying time.
Race One is over 42 laps or one hour, and each driver must complete one compulsory pit stop were a minimum of two tyres must be changed. The grid for Race Two (30 laps) is set by the finishing order of the first race, with the top eight positions reversed. It's 30 laps or 45 minutes with no compulsory pit stops.
After a blistering start to the season in Kuala Lumpur where he picked up 11 points and a podium finish, things haven't gone according to plan for Evans and the Arden International team.
Bahrain and Barcelona were fraught with mechanical and qualifying dramas and the team didn't score a point. Evans still sits 13th on the table out of 30 drivers.

GP2 points after three rounds
1 Stefano Coletti - 93
2 Felipe Nsar - 76
3 Fabio Leimer - 54
4 Robin Frijns - 37
5 Sam Bird - 33
6 Jolyon Palmer - 31
13 Mitch Evans - 11