Kenny Smith's still got it, says Eric Thompson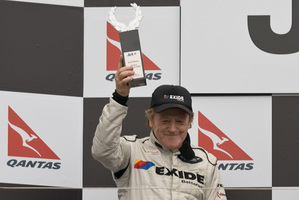 If there is one person who epitomises having a passion for anything, let alone motorsport, it would have to be Kenny Smith. He was winning hill climbs in 1958 and is still a force to be reckoned with 55 years later.
Smith has raced at Pukekohe every year since the place opened in 1963. In his heyday in the late 1960s and 1970s, Smith was going wheel-to-wheel with the likes of Bruce McLaren, Graham Hill, Stirling Moss, Denny Hulme, Jackie Stewart and Chris Amon. He won the first of his three NZGP titles in 1976, backed up with another in 1990 and more recently in 2004.
"It's one of the very quick circuits and there's not a lot of corners in it," said Smith. "It's been magic racing there and I was lucky enough to race against some of the best in the world when they came out here. To me that was a great thrill and to keep being able to come back to Pukekohe is really good.
"My most memorable race would have to be the 1976 when I became the first resident to win the New Zealand Grand Prix.
On top of that I had a lot of great races with David Oxton and Graeme Lawrence and guys like that.
"We used to have some real hard wheel-to-wheel battles side-by-side coming over the hill and it was good to race against people you could trust at high speed. They were mighty days.
"Even now that they've put that new piece in, I still really enjoy fizzing around in an F5000. It's not difficult and it's a thrill to be able to get over that hill a bit quicker than someone else - you just have to get on the loud pedal a bit quicker.
"A lot of people are now saying Pukekohe is more dangerous with all the walls there now, but it doesn't stop them from going to street races. My theory is that if you're five centimetres off the wall and hit it, it's much better than sliding across the grass and then hitting it harder."
Four-time Bathurst winner Greg Murphy owned Pukekohe when V8 Supercars was a regular visitor, winning a record four rounds between 2001 and 2007, and has fond memories of the place.
"Pukekohe isn't as technical as a lot of the other circuits and maybe that's what I loved about it," said Murphy. "Some places, like Hamilton, are so technical with lots of corners with lots of braking it meant teams with a lot more resources could get their cars working better than others.
"Puke's not like that. It's more up to the driver than trying to get a perfect car. Don't get me wrong, you've still got to have a good car. Puke suits a driver who can pedal the fastest, rather than a great car setup.
"There's no issue with the dip at the end of the front straight, it's the way the track always has been. Often when you try and fix those things you make it worse. There's nothing wrong with it - there's plenty of grip down there. It's fast and flowing so you've just got to suck it up. That bit separates the men from the boys."
That's enough of the cars for a moment. Pukekohe has an equally rich heritage in motorcycling and how many tracks can boast at hosting the only man who has won a Formula One world title and a world motorcycle Grand Prix title? John Surtees made his way to New Zealand and won the first Grand Prix at Pukekohe in 1963.
Another, almost equally famous motorcycle racer, Giacomo Agostini made an appearance at Puke in 1999, and while everyone hails the impressive Valentino Rossi, Agostini still holds the record for the most world championships won- 15, and don't forget his 10 Isle of Man TT wins either.
New Zealand's only world Motorcycle Grand Prix champion (actually he has four world titles) Hugh Anderson would have turned more laps around Pukekohe than most of us have had hot dinners. However, it was another local hero who lit up any place he raced at with his aggressive style of showmanship racing, especially in the Marlboro series days of the 1970s. Graham Crosby went on to win two TT Formula One world titles and finish second in the world 500cc championship.
That series was like the Tasman car series of the 1960s where the cream of the racing crop take a bit of break and headed down under for a bit of a yahoo.
"The Marlboro series was great and to race against all those internationals was good as well," said Crosby. "I was at a bit of a disadvantage though, as we were racing on a production bike [albeit a highly modified Yoshimura Kawasaki] up against the best machinery from Europe.
"Pukekohe back at that time was quite a long, fast circuit and if you had a fast bike you'd normally do quite well. Because it's a very high-speed circuit you could learn the art of drafting and high-speed heavy braking and how to stabalise the bike and load up the front end gradually.
"It was quite a dangerous circuit. You just have to look at the time Cal Rayborn was killed there - that was a bloody disaster.
"You've also got to remember that a few manufacturers bought out new bikes to test at Pukekohe during the Marlboro series. In fact it was the first time a Suzuki RG500 was ever raced and the series was used as a bit of a testing ground."
It would be churlish to not have a quick chat to one of our great Formula One drivers Chris Amon, who was a factory Ferrari Formula One driver, about his days racing at Pukekohe. Amon was also pretty good in sports cars winning the Le Mans 24 Hour among other things.
"I have fond memories of the place having won the New Zealand Grand prix twice there (1968 and 1969), said Amon. "I'm also pretty sure I was at the opening weekend of the track and had some great battles.
"I remember the opening meeting and racing the low-lying Cooper and scrapping with Tony Shelly and Angus Hyslop and the Cooper wasn't quite on the pace. It was a hard battle but I won and it didn't do my future prospects any harm.
"Tony had raced as part of Reg Parnell's outfit in Europe the previous season and the fact I beat Tony re-enforced Reg's opinion of me and that probably helped me get to Europe."