Jaden Hassan joins Suzuki, reports Andy McGechan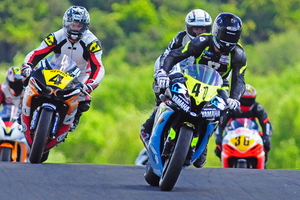 It could be a super future for Aucklander Jaden Hassan.
Suzuki riders swept the New Zealand Superbike Championships - winning the premier superbike and 600cc supersports classes - and now the Wanganui-based company has enticed 600cc-class runner-up Hassan to join them.
Westmere's Hassan, riding a Yamaha R6, pushed hard all season and certainly made eventual 600cc supersport champion John Ross (Suzuki GSX-R600) of Christchurch work for his prize.
At the beginning of January, at round one of the 2013 national series on the outskirts of Christchurch, Hassan finished the day first equal overall, level with Ross, but experienced a massive setback at round two near Timaru, suffering a crash during the weekend's preliminary qualifying session.
It was a crash that for a lesser rider would most likely have spelled the end of the title campaign.
Hassan braved the pain to make his way to an unaccustomed 12th in the first of two 600cc supersport races the following day, but sadly withdrew before the start of the day's second race.
That 12th placing and subsequent no-show meant he slipped from first equal to a distant fourth in the championship rankings.
But the 19-year-old is made of stern stuff and declared himself ready to go when he showed up at round three at Teretonga, near Invercargill, just a week later, with his broken left wrist securely braced.
Remarkably, he qualified his Yamaha fastest, then again weathered the pain to battle his way to third and second in the two races.
Ross won both races and extended his championship lead, but at least Hassan was back in the game and had done well enough to elevate himself from fourth to second on the points table.
The points differential between the two men meant Hassan needed to win in Taupo and hope that Ross would finish somewhere back in the bunch.
Hassan did in fact win both Taupo races, however Ross did enough to claim the crown by finishing second and third that day.
Fast forward a couple of months and Hassan announced he will now be racing the same brand of bike as Ross, although not in the same class.
Hassan is not only switching brands from Yamaha to Suzuki, he will also be jumping up a grade to contest the 1000cc superbike class in 2013/14, aboard a Suzuki GSX-R1000.
"This is really great news for me," says Hassan. "I'm very excited about stepping up to the superbike class. I can't wait.
"I want to do some testing with the bike before the end of winter and be ready to tackle the Suzuki Series [which kicks off at Hampton Downs in December].
"I have no real expectations of how well I might go. I don't have any goals at this stage. I just want to learn."
The learning process has already begun, with Hassan recently spending time quizzing Suzuki's nine-time national superbike champion Andrew Stroud, who also plans to make a comeback from injury later in the year.
"It was great to chat with Andrew and get some opinions from him. He was very positive," says Hassan.
The head of Suzuki New Zealand, CEO Tom Peck, says he's excited about the latest development.
"We're very pleased to have someone of Jaden's talent on board."
Hassan will take his new Suzuki GSX-R1000 and immediately begin familiarising himself with the bike.