Drivers itching to get back behind wheel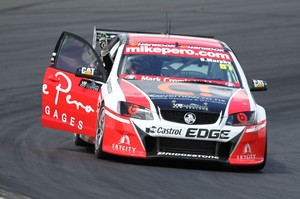 It's been a long time between rounds in the V8 SuperTourers series and all 20 drivers will be itching to jump back into their respective cars this weekend and go do what they're good at.
Round three of the series fires up on Sunday at the Brother 350 and it'll be the first chance a good number of the V8 pilots will get to check out the new circuit layout at Pukekohe.
In the weeks between the last round at Ruapuna and this weekend's event, there's been a great many changes (see page E17) within the category and while this has been of great interest to team owners, the drivers just want to go racing.
The man probably the keenest to belt himself back into a race car is series leader Greg Murphy who missed out on a wildcard entry to the V8 Supercars weekend in April. Murphy does have the endurance rounds of the Aussie championship to look forward to, but in the meantime he's focused on this weekend.
"The V8 Supercars put on a good show back in April on the new Puke layout," said Murphy.
Scott McLaughlin drove a faultless race one to record an amazing first victory and give the Kiwi fans something to remember.
"I will be giving him no freebees, though, when we go at it in our SuperTourers and we won't be the only two wanting to stamp some authority out there. The entire class has narrowed the gap and it will be a classic confrontation.
"Pukekohe has always been a special place for me and winning there will be massive for the Mike Pero M3 racing team. The fans are in for another full-on weekend of V8 action."
Defending V8 SuperTourer champion McLaughlin hasn't had the best of starts to his defence of the title and languishes in 17th on the table. At the opening round of the series at Hampton Downs, McLaughlin was punted off by an over-exuberant Andre Heimgartner. The resultant damage to the car ended his race weekend.
McLaughlin picked up a few points at Ruapuna but will need to recapture his V8 Supercars' winning form to make inroads on the leading trio of Murphy, Ant Pedersen and Daniel Gaunt.
"It's going to be amazing this weekend and although my New Zealand season didn't get off to a good start, we fully intend to come out fighting for wins at Pukekohe," said McLaughlin. "We bounced back last year to win the title and we can do it again this time around."
International Motorsports' Pedersen is hovering just 59 points behind Murphy. Pedersen heads to Pukekohe in a buoyant frame of mind, having won the feature race at Ruapuna and finishing second for the round.
"We've certainly worked hard as a team to better understand the tyre and how our car treats it," said Pedersen. "We showed at the last round how good the car can be when we get the tyre strategy right and we'll be hoping to be able to do the same at Pukekohe."
Sprint champion from last year, John McIntyre, sits inside the top 10 in the series but has been frustrated by elements outside his control. McIntyre does have an advantage over a number of his fellow competitors, having already raced on the new track layout in his old NZV8 car in the support races at the recent V8 Supercars meeting.
"Quite frankly, I've been turned around by other competitors more than enough already this season," said McIntyre.
"At critical points of our race meetings at Hampton Downs and Ruapuna, the car was tagged and turned around by others, which didn't help our results.
"Qualifying is absolutely critical in this intensely competitive field. We've had practice times which were faster than official qualifying times.
"We've been going through a range of changes between practice and qualifying, so we've gone a step too far in both sessions this season. We think we know where we need to leave things now, so come the day we'll see if we've got it right."
Third man on the points table, Gaunt wasn't scheduled to race this weekend and would have tumbled down the leaderboard as Andrew Waite was due to drive this weekend. However, Tasman Motorsports Group had to swap back again after Waite suffered a broken wrist in an accident in the Honda Cup enduro at Pukekohe a few weeks ago.
"I really can't describe how gutted I am right now," said Waite. "But it's just one of those things that could have been a lot worse. It's just my luck, however, that the bone I broke in my wrist is the one that takes the longest to heal.
"I've now got a long four-month wait before Taupo. I'll continue to maintain my fitness levels, and gain all the strength back in my wrist. These V8 SuperTourers are incredibly physical to drive, so I'll need to be 100 per cent."
The weekend's schedule comprises two 45-minute practice practise sessions and a 20-minute qualifying session at 3.25 pm on Saturday and three races on Sunday: 15 laps at 10.30 am, 20 laps at 1.15pm and 32 laps at 4pm.

New Challenge Cup sponsor
The V8 Challenge Cup has a new series sponsor, Cogent Telecommunications, who have put up a prize fund of $20,000. First prize of $10,000 will go to the driver from the Pukekohe round onwards who gains the most points, although the series champion will be decided over all the 2013 rounds.
The remaining $10,000 will be divided up with $6000 going to the runner-up and $4000 to third place. The V8CC series is made up of the old NZV8 TL cars and is open to
any driver who has not raced a V8 SuperTourer or the new NZV8 TLX schedule car.
''Our doors are open to any owner with a TL schedule car who wants to race either as a young gun or as a gentleman racer, all will be made very welcome,'' said series co-ordinator Stephen Gillard.
''We see the production-based V8 Challenge Cup cars as offering the relevant mix of engineering and race craft skills necessary to advance to the main game either side
of the Tasman.
''The cars are available for a fraction of the cost of a SuperTourer and running costs are proportionately far, far lower.''

V8ST ownership change
V8 SuperTourers has had a clean out at the top and installed a new ownership structure. Current CEO Ray Noonan led a buyout from the founding shareholders and the new owners have brought a solid financial base to the category, which has struggled in the past.
''We will overcome the ongoing issues with cashflow and allow the organisation to focus on its core business _ the development of motor racing in New Zealand,'' said Noonan.
Joining Noonan at the top table is David Sutherland.
The pair have a number of business interests together and a personal passion for motorsport.
''Dave and I have worked together for the last decade and I know that his marketing brain together with his governance experience will become an asset to both V8 SuperTourers and to motorsport in general,'' said Noonan.
The deal has been concluded for an undisclosed sum, but Noonan says a key aspect is that all existing trade creditors will be paid.