Oz carmaker about to wow world again - with the VF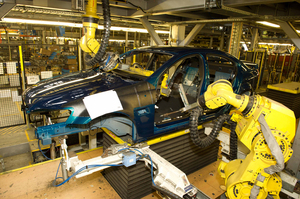 As the last of the Holden VE Commodores rolled off the production line at the company's South Australia plant, preparation is beginning for its replacement, the much-heralded VF.
This last VE built was an SS Z Series automatic sedan, painted in "Chlorophyll".
Sold on six continents and registering production numbers exceeding 520,000, the VE Commodore and its variants have cemented a place in Australia's motoring hall of fame.
Designed essentially from scratch, the VE was the "most Australian Commodore" Holden had ever built when it launched in 2006. A rolling showcase for the design, engineering and manufacturing capabilities of Holden, the VE and its variants eventually were sold internationally, predominantly under the Chevrolet nameplate: from utes in South Africa and sedans in the Middle East and Brazil, to long-wheelbase police vehicles in the US.
The VE also earned a cult following in the US as the Pontiac G8 and in the UK, where Holden Special Vehicles iterations of the VE were sold as Vauxhall VXR8s.
The excellence of the VE and Holden's engineering team was also recognised within GM, with the VE's architecture forming the basis of the renowned Chevrolet Camaro, and much of the development work on the modern-day American muscle car was done in Australia by Holden engineers.
The VE Commodore was also the most successful race car model in Australian motorsport history, winning on debut at the Clipsal 500 in 2007, plus three V8 Supercar titles, and remains the only model to have won at Bathurst four times in a row.
"The VE Commodore was a landmark achievement for Holden. The company's first 'clean-sheet' design allowed our team to show the world what Holden was capable of and the result was, and remains, a stunning car," says Holden executive director of manufacturing, Richard Phillips.
"It's a bittersweet moment to be marking the end of VE production. It's been such a great product for us and there's so much pride around the VE here in the plant but, at the same time, we're excited about the future and the entire Holden team is energised by the imminent launch of the fantastic new VF Commodore.
"The VF is the most advanced car ever created in this country, a car that takes the winning values and trademark driving dynamics of the VE and elevates it to a new level of luxury, technology and sophistication."
The Commodore is Holden's longest-standing, most successful nameplate. Introduced in 1978, the Commodore name will have graced 15 series when the VF goes on sale in June.
Almost three million Commodores have been produced since 1978.