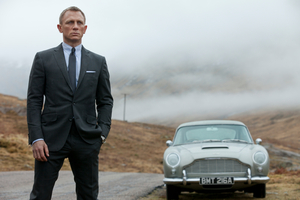 Even Aston Martin wrecks fetched above-estimate prices at a UK auction Bond car sold - mouse nest included
An Aston Martin DB4 set an auction record for the James Bond maker at the weekend as even wrecks found in barns sold for above-estimate prices.
A 1964 DB5 discovered after three decades in an old garage with a mouse nest in its engine bay sold for £320,700 ($602,264) in the UK sale by Bonhams. A grime-encrusted 1966 DB6 Vantage Sports Saloon Project, also untouched for 30 years, fetched £107,900.
Partly thanks to its 007 associations, Aston Martin is the most desirable UK marque for collectors of classic sports cars. Prices have risen and as such cars have become an increasingly popular alternative investment.
"The DB5 is one of the models that has led value increases in the classic-car market," said Neil Dickens, co-director of the Wiltshire-based dealership the Hairpin Company, before the event.
"The market for this marque is as strong as you could hope for, with the possible exception of Ferrari."
The unique DB4GT "Jet" Coupe, bespoke styled by the Italian design house Bertone, was estimated between £2.8 million and £3.8 million at hammer prices. It was bought by an anonymous bidder in the room for £3.2 million.
Created for the 1961 Geneva Motor Show, the Aston Martin "Jet" was being sold from a collector's estate and hasn't been seen on the market for more than 25 years. The price beat the £2.9 million given at RM Auctions in 2010 for a 1964 silver DB5 driven by Sean Connery in the James Bond movie Goldfinger.
So-called "barn finds" - cars in untouched condition - are highly prized by collectors in a selective market for classic models that puts a premium on originality.
The DB5 was bought by a bidder in the room against an estimate of £150,000 to £200,000. The mice had moved out of the sports saloon before its cylinders were re-lubricated and it restarted without difficulty, if noisily, the seller said. The nest made of shredded newspaper was in place and included in the price.
Bonhams said the car was perfectly preserved. Dealers estimated the restoration would cost about £200,000.
"This allows wealthy car owners to choose how they want it to be done," said James Knight, Bonhams' head of motoring.
There were gasps in the auction room when the DB6 sold for more than five times its lower estimate of £20,000.
See our gallery of Bond cars through the years here