A veteran mechanic tells of his years in the pits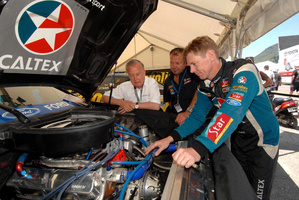 While the drivers' daring provides the spectacle, drama and entertainment on the track, spare a thought for the mechanics. They labour day and night to make sure the cars can do their business.
International Motorsport's Lyall Williamson has been fettling, stroking, cajoling, fiddling, building, tweaking, guessing, second guessing even, inventing and scratching his head about how to get a race car to work at Pukekohe for 50 years.
"The first trip I ever had out of Christchurch was to come up to Pukekohe and do the World Six Hour way back with Tony Shelly and Ray Archibald," said Williamson.
"It was probably the fastest track in New Zealand and back then it was on the old configuration, which made it even harder.
"Going around a bumpy circuit like Pukekohe for six hours required a completely different strategy. Drivers always wanted you to dial the bumps out, but in production car racing you weren't allowed to touch the shocks.
It was a matter of telling the drivers to grin and bear it and get on with it.
"It was also a circuit, especially the old layout, that killed brakes and we had to learn how to change them quickly in the middle of the race. Later on, Rod Coppins turned up with the first Holden SLE 308 in the country and it was the first time a Holden Commodore was raced in anger - and won.
"We were still having the same problems with bumps with the Volkswagen Golf with Sterling Moss, Jack Brabham, Denny Hulme, Rod and Jerry Clayton. To get the cars to go a bit better we fitted limited slip diffs and then you had to teach the drivers how to get off the throttle when cornering, otherwise it would either snap and turn left or right or break the axles."
But through all the years one thing remained the same: "Each time a driver got out after a race, or a few laps, they had a glow on their face. It's always been a bit of a ball-tester but the drivers, most of the time, liked the challenge.
"Because of the nature of the bumpy surface, the track was always likely to fire you off.
"There are more people involved now with a lot of individual skills that all go together to get a car to work at its maximum best round Pukekohe. Back at the start there were only two people in the team other than the driver and no electronics so you just had to try things."
In the big scheme of things nothing much has really changed. No matter how much electronics and empirical data you might have, Pukekohe will always keep engineers, mechanics and drivers on their toes.

A special young driver
One of New Zealand's best tin-top racers, Jason Richards, has been remembered in a book after his untimely passing, but it focuses on his V8 Supercars career. Lyall Williamson remembers Richards well in his days learning how to punt a BMW touring car
around Pukekohe.
''Jason fronted up to us at Manfeild and said he wanted to have a chat and what were the chances he could get a drive with us. He said he was good enough to race for us and I told him I'd been watching him and he still had a way to go.
''He didn't take too kindly to that and came back at the end of the day again. In the end, as Craig Baird and Brett Riley were getting new BMWs I thought, with BMW's blessing, to put him in the old coupe.
''Jason then came and worked with us and we had an amazing life until he moved to Team Kiwi. He was unbelievable around Pukekohe.
''He had an amazing attitude and a smile that never stopped. He was just one of those special young lads.''