Pukekohe's $6.6m makeover made V8 Supercars happy. Paul Charman asks: are other motorsports getting a fair suck of the sav?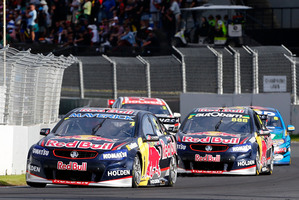 Pukekohe's new V8 Supercars track is being used for all motorsport events at present. But in the next few weeks Motorsport NZ will inspect the old track with a view to bringing it back into use as well.
The recent $6.6 million revamp includes installing concrete safety barriers inherited from the Hamilton Street Race, new debris fencing and some resurfacing, says Pukekohe general manager Greg Mitchell.
New pit structures, race control and timing buildings, a catch fence, crossing gates and a double bridge have also been imported from Hamilton and three turns have been added.
The pit area has been extended to allow 32 more pit garages and a state-of-the-art control building added. An over-track footbridge and improved viewing areas are additional features.
"The new corners enhance racing quality and provide three new places to pass. Cars will be able to approach the new turn five at 225km/h, with about 100m of braking allowing for passing.
Between turn five and turn six, the track is 14m wide with an offset of 80m between the corners," Mitchell says.
"The cars will still get to about 185km/h after the new setup before they have to use the anchors and haul up sharp right for the 65km/h hairpin - giving another passing opportunity. All the kerbs have been modernised and parts of the track resurfaced.
"Widening has been undertaken at turn one, where drivers re-join the track after exiting the pits and barrier alignment is more energy-absorbent in the faster sections. Characteristics of older sections of the track haven't changed much and the fast, flowing and bumpy nature of the track remains," he says.
But it's fair to say the new layout doesn't please everyone. Graham Hill is in his seventies and has been an amateur racing driver since his mid-teens.
He pleads with organisers to remember grassroots fans with they're designing a track, "rather than endlessly courting the big money people".
"Pukekohe wouldn't be able to function without scrutineers, flag marshalls and volunteers giving time because of their enthusiasm and love for motorsport," says Hill.
The scrutineer of many years' experience says his enthusiasm was dented when he saw Pukekohe's famously fast track re-engineered to make it slower, "and effectively laden down with hand-me-down fixtures from the Hamilton Street Race".
"In my view lining of much of the track with concrete crash barriers now leaves Pukekohe looking like one big street race."
The barriers might suit the V8s. But Hill maintains that they're not appreciated by significant users of Pukekohe, longtime drivers like himself, who love the high speeds the track has been famous for, and for motorcyclists.
"Being higher than Armco, the concrete has reduced spectator views along stretches of track, as has construction of the new overbridge. It really looks like some deal was done behind the scenes to lumber Pukekohe with all this stuff [from Hamilton] and not all of it's a good fit.
"Some of us wonder why they could not have simply dug out an underpass instead of obstructing views with that new overbridge.
"I'm not against progress and mindful the track must adapt to a new era. Gone are the days when hundreds of families would support weekend events, with dad racing or working in a pit crew and mum making a picnic lunch. But if you look around, you'll notice a lot of the volunteers are in the older age group.
"The owners would do well to consider the feelings of those who've supported Pukekohe over many years. These days they seem to have bigger fish to fry."
Motorbike racers have pulled out of Pukekohe after the revamp, ending half a century of two-wheeled racing.
Auckland Motorcycle Club president Graham Bastow said they were concerned about the concrete barriers next to the track on a turn known as the Mountain Bend. They say the barriers leave no run-off area in case motorcyclists fall, or space for soft barriers used to break their fall.
It's also been pointed out that the $6.6 million upgrade fails to meet the international safety standard promised by V8 Supercars' bosses.
Motorsport's international body, FIA, gave Pukekohe a "category three" status - the same rating it had before the upgrade.
But when V8 bosses sought public funding last year, they told Auckland Council's events arm Ateed and the Government they wanted the higher, "category two" status.
All three agreed to pay $2.2m towards the cost. Ateed's funding was part of a $10.6m package over five years.
Clive Bowen, a professional circuit designer from the UK who has designed 84 new or upgraded tracks since 1997, including Dubai Autodrome, Sydney Motorsport Park and Hampton Downs Race Track, says Pukekohe's horseracing track and nearby rail line mean there's not enough room to make changes to meet the higher standards of category two racing.