From F1 world champions to club racers, the South Auckland racetrack has hosted five decades of excitement.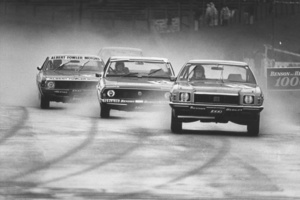 Among its many fans Pukekohe Park Raceway can list some of the world's greatest racing-car drivers and motorcycle riders, hordes of weekend racers and an army of spectators. Though re-designed to curb some its legendary lap times, Pukekohe has long enjoyed the reputation of having the fastest corner, fastest straight and fastest track in New Zealand.
In his book On Track, A History of Motor Racing at Pukekohe, Rhys Jones is full of praise, but remains realistic.
There have been horrible crashes at Pukekohe, probably more nor less than at comparable facilities around the world. There have been giant egos (motorsport's greatest asset and worst liability), which have seen opportunities lost. And user groups have pushed their own agendas and interests. Those sharing Pukekohe have included the NZ Grand Prix Association, Auckland Motorcycle Club, Auckland Car Club, Northern Sports Car Club, NZ Classic Motorcycle Racing Register, and, of course, the Franklin Racing Club.
If you're a glass half-empty type, the dual-purpose motorsport and horse training stadium - owned by the equine fraternity's Pukekohe Park Ltd - has definitely seen better days.
Annual spectator figures were far greater when Pukekohe was a summer playground for international driving and riding stars from the Northern Hemisphere - especially during the 1960s and 1970s - and this is unlikely to be repeated.
But compared to motor racing venues in other parts of the country, Pukekohe is thriving. Auckland's closest track stages New Zealand V8s, the Toyota Racing Series, V8 Supercars, NZ Grand Prix and V8 Tourer racing. It's used for driving schools, open track days, joy rides with racing stars and other non-racing activities.
Although we'll again never see the cream of motorcycle racers contest a Marlboro Series, what about those quirky classic motorcycle festivals? Former bike-racing greats fire up the exotic machinery which won them glory.
Above all - thanks to sane town planning - Pukekohe stands on land explicitly zoned for horse and motor racing. The noise of V8 Supercars and the powerful lights for training horses in the gloom are perfectly legal.
That's a blessing considering the fate of Kiwi venues such as the Levels, near Timaru, where motorsport races under heavy restrictions, or Bay Park, near Tauranga, which lasted less than 30 years due to encroaching suburbia.
The NZ Grand Prix's longtime boss, Eric Mallard, explains Pukekohe's happy situation in Jones' book.
Following World War II, there was a fervour for motor racing: 60,000 spectators would travel to the Ardmore Aerodrome to watch the free-for-all Formula Libre during the 1950s. With engines from 500cc to 5000cc in the same race, true open-class jousting
was a post-war must. Cars were scarce, and Australasian drivers happily snapped up
obsolete F1 cars from the Northern Hemisphere.
Pukekohe attracted crowds of more than 40,000 when it opened in 1963, but never quite equalling the runway circuit just up the road. Some attribute the steady decline in gate takings to the advent of television and electronic entertainments.
''About 43,000 spectators flocked to Pukekohe for the 10th New Zealand Grand Prix on January 5, 1963. The weather was hot and dry, and with a grid that included Graham Hill, Chris Amon, Bruce McLaren, Jack Brabham, John Surtees, Angus Hyslop and Jim Palmer, all was set for a scorching opening of the new circuit.''
The first five of those were regular Formula One drivers; three of them world champions. Imagine Vettel, Raikkonen, Alonso, Hamilton and Massa on the grid at `Puke' for next year's Grand Prix!
The following year McLaren pipped Denny Hulme (a Kiwi F1 world champion. How's that?) over the line.
Pukekohe fired up at the end of Formula Libre (1950-1963) and was then used for Formula Tasman, run in Australia and New Zealand (1964-1969) and F5000, based on Chevy V8s (1969-1976).
When the Marlboro series started in the mid-70s motorcycle enthusiasts saw racing machinery that would battle on European circuits in the coming Northern Hemisphere season. The era of production racing brought Yamaha RD 400s, Suzuki RG250s, Kawasaki
GPZs and Suzuki GSX1000s to the circuit.
In his book, Jones delves into the causes of the 1973 death of American motorcycle racer Cal Rayborn, killed when he crashed at the sweeper at the end of the home straight. The Auckland Motorcycle Club was severely criticised at the inquest because Rayborn was pitched into a timber fence but was this fair? Rayborn's Suzuki T500 seized after his mechanic insisted on running it on alcohol. The tragic crash is still remembered, and none to fondly at that, by American Harley fans. Rayborn had a glittering career with HD before the company quit road racing about 1970 and was possibly their best rider.
From the late 70s it's been all about production bikes at Pukekohe. Some of the greats raced both cars and bikes there, including John Surtees, Mike Hailwood, Graeme Crosby, Aaron Slight and Paul Pavletich, as well as our four-time world champ, Hugh Anderson.
But back to cars. In 1984 Pukekohe felt a chill wind from the south as the Wellington Street Race challenged its status as the country's premier racing venue till it ended in 1996.
Then in 2001, a gift: The Australian Supercars came to Pukekohe, where they enjoyed huge popularity.
Greg Murphy won at the track for three consecutive years (2001-03) and in 2005. Spectator numbers were third behind Adelaide and Bathurst. And as a round of the
Australian V8 Championship, Pukekohe enjoyed the international limelight.
Perhaps the most encouraging aspect of the V8 circus was that it brought the sport in Australia and New Zealand together again after a long and unfathomable separation. Jones says not since the halcyon days of the Tasman series 30 years earlier had there been a successful series between the two countries.
The cars were promoted as ''the biggest, heaviest, fastest and most powerful of all touring cars''. That's gilding the lily slightly, but you have to say 20 cars qualifying within a second of one another make great viewing both on TV and trackside.
For the northern side of the Bombays it was a black day when Hamilton claimed the right to host the V8s in 2007. The city persevered with its street circuit at crippling cost to ratepayers to 2012. But few would argue that it's great to see the V8s back at Pukekohe.