BMW's latest 7-series is power in a luxury wrapping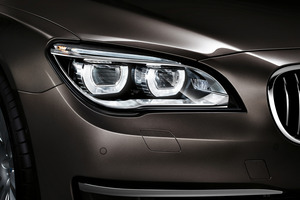 Say what you will about the BMW 7-series, but it's certainly not a car for showing off in.
For a start, the 5-series now runs so painfully close to its bigger brother on styling and quality (the two were co-developed and share many components) that you'd really have to want the Seven's extra space and grace to pay the extra.
Case in point: if you can identify the latest Life Cycle Impulse (LCI) 7-series from the previous model, you must be a BMW-obsessive.
There are a couple of very subtle styling tweaks, which I will reward you with at the end of the story. Take a look at the pictures and see if you can spot them.
But what's new underneath? The 750i picks up the latest-generation 4.4-litre twin-turbo V8 engine: with direct injection and variable valve lift, it makes 10 per cent more power than the old car but is 25 per cent more economical.
The new Seven features stop-start, regenerative braking and the full Driving Experience Control setup with an EcoPro mode (along with two levels of Comfort and Sport each, for a total of five). The numbers are very impressive: 330kW, 650Nm and 8.6 litres per 100km.
Some of the fuel efficiency gains must also be attributed to the eight-speed automatic transmission now fitted as standard to the 750i. That's right, it has been stuck with the old six-speed gearbox until now, despite the One, Three and Five series models all having eight. I did not know that.
Inside, the new 750i gains an updated iDrive system and screen, including rear-seat entertainment (which comes with its own controller). The main instrument panel is now completely digital, with different displays for different driving modes.
Other luxury equipment standard on the 750i includes heating for front and rear seats, internet access through the iDrive screen, lane change warning system and a soft-close function for all doors.
You probably don't need me to tell you that the powertrain is sublime. The V8 engine fulfils the roles of smooth performance and outrageous acceleration astonishingly well, while the eight-speed automatic is a fine conduit for all that power and torque.
But it's larger and less agile than the 5-series, right? Well yes and maybe, depending on how each car is specified. Carmakers will tell you that electric power steering (EPS) is just as communicative as hydraulic, but that's simply not true - which is why BMW stays old-school on its M-models. But EPS does save fuel, so the new Seven has it.
However, the 750i also features BMW's Integral Active Steering - that's four-wheel steering to you and I - as standard. This system, optional on the 5-series, gives the big BMW a strangely nimble character in tight turns. Self-levelling rear suspension is standard.
So how do you identify the new 7-series? Well, you might look at the headlights, because the new model has LED headlights with high-beam assistant, so they look a little different from the old. I think.
Or to be really sure, check the grille: the old model had 12 slats, the new one has nine. You're welcome.
The bottom line
Significant but subtle upgrades for $233,500 BMW 750i - for those who like to keep their luxury low-key.