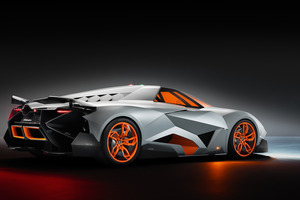 It's official: Lamborghini have given up even pretending that their customers care about anything other than themselves by releasing a concept car that celebrates the idea that being a selfish git is a good thing.
The Egoista (literally "selfish" in Italian) is a car for truly selfish people. Why? Because it is all about the driver. Also he is the only person who will fit in it, because the Egoista only has one seat.
Taking a central-seating position from the McLaren F1 and then tossing out the two passenger seats - because who needs friends when you have a Lamborghini - the Egoista is essentially the ultimate expression of a super car. A Lamborghini one, at least.
The Egoista was revealed by Lambo boss Stephan Winkelmann at a celebration of the marque's 50th anniversary.
Designed by Walter De Silva, the Egoista is inspired by the design of the Apache attack helicopter. And like the iconic attack helicopter the cockpit is apparently a "removable section" - allowing the driver to "isolate and protect themselves from external elements", according to Lamborghini design boss De Silva.
Don't get too excited about the idea of it making production though; Lamborghini describes the Egoista as "a gift to itself" and that no person will ever own it. Probably for the best, really.

Caterham turns 40
Caterham, the company that bought the rights for the Lotus Seven from Colin Chapman in 1973, has announced a special limited edition pack to celebrate its 40th anniversary.
In stark contrast to Lamborghini's extravagant concept car present to itself, the Caterham pack will be available free of charge to the first 40 orders for any car in the Seven range.
It is basically a trim and wheel package designed to ''evoke the nostalgia of the early
Sevens'', according to the company.
The anniversary means that Caterham is a mere five years away from tripling the amount
of time Lotus produced the original Seven between 1957 and 1973.

Ferrari makes more by making less
Ferrari is in an unusual position in the motor industry by being one of the few manufacturers that needs to actually sell less cars than it could, in order to retain its
exclusivity.
To boost this exclusivity, Ferrari boss Luca di Montezemolo has devised a cunning plan to achieve greater profits by selling fewer cars.
Operating on the idea that higher exclusivity means higher profits per unit, Montezemolo
recently said: ''When you buy a Ferrari you buy a dream, and customers must be reassured that we will preserve that dream. We will slow down our manufacturing pace accordingly.''
Ferrari sold 7318 cars last year and Montezemolo says the company plans to sell fewer than 7000 this year. Ah ... that is not counting the 499 LaFerrari supercars it will make, though.

Forgets to install parts, blames car
A Mini owner in the US got possibly the best apology note from a car manufacturer ever. His new Mini Cooper JCW turned up with its supposedly standard steering-wheel-mounted paddle shifters missing.
A bit of a drastic oversight, you would think, but Mini made the best of the situation by issuing a hilarious letter to the owner blaming the car's enthusiasm to meet him as the reason for the missing paddles!
''Your MINI was so revved up to make an appearance that it motored right past the John Cooper Works steering wheel department. It forgot to tell us that it never picked up its shifter paddles and left without saying goodbye. We were shocked to receive a postcard
from it letting us know that it crossed the Atlantic and landed on US soil.''
The letter also offered to fit the missing paddles at a dealership. The owner was apparently not too bothered and found the letter amusing. As you would.

We are the world
*A county sheriff's deputy pulled over a car driven by 20-year-old Bryan Zuniga near Tampa, Florida, after he was observed weaving in traffic early one morning. Zuniga
stopped the car, then fled by kicking his way through a fence ... where he was bitten by an alligator. He suffered injuries on his face and arm and was arrested on a variety of
charges.

*Further proof that some people shouldn't be allowed to own GPS units, let alone drive: a driver on the Upper West Side of Manhattan was trying to make his way to New Jersey. But the GPS he was following led him astray. The driver turned west, but instead of turning on to a street, his car headed down the first few stairs of an entrance to Riverside Park. The car and the driver were stuck on the stairs until a tow truck could erase the evidence of a very public wrong turn.
*Daniel Speed of Nottingham, England, pleaded guilty to charges of possession with intent to supply amphetamines. Otherwise known as speed. All he needed to do to make
it perfect was to run from the cops in his car, then he could also have been charged with ... oh, never mind ...
*A puppy was discovered in a vehicle at an impound lot in Kansas City, but no one knew for almost a month. When an inspector went around to mark cars for auction, the puppy jumped up on the dashboard. The dog was taken to a vet, who estimated the emaciated pup was 12 weeks old. The pup, a female now named Kia, had apparently survived on fast-food scraps and cigars. Kia is expected to make a full recovery.

Number Crunching
50 years since Ferruccio Lamborghini overreacted to a slight from Enzo Ferrari in the most spectacular way and started making his own cars.
350 The number of classic Lamborghinis that took part in an anniversary drive across Italy
4 Kilometres The length the convoy of Lamborghinis took up on the road
190,000 Horsepower The combined output of the 350 classic supercars (141,700kW)