New purpose-built Austin track will test V8 engineers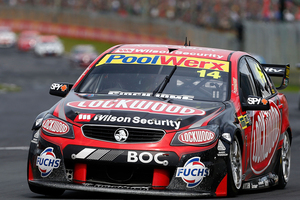 The V8 Supercars circus has arrived at the home of big banger racing this weekend in Austin, Texas, at the Circuit of the Americas. Only a couple of drivers, James Courtney and Fabian Coulthard, have turned a few laps around the purpose-built Formula One Circuit, but not enough to gain any real edge.
It's the first track in the United States custom designed for F1 and was conceived by promoter Tavo Hellmund and former world motorcycle world champion Kevin Schwantz.
The man who made it all happen was the well-known F1 track designer Hermann Tilke, who's often known for designing some pretty boring tracks when it comes to anything outside F1.
Whereas professional drivers relish the idea of coming to grips with a new circuit layout, it's the engineers who really have their work cut out. This weekend will be especially tough on them as there is no data available for the track.
Getting the car fast straight off the truck is going to be hard at the high grip, wide and flowing circuit which has an elevation change of over 40m in sector one. Tyre management will be paramount with new sets having to be used for practice, leaving just six sets for all of qualifying and the four races.
Because of the high-speed nature of the track and the mostly sweeping corners, young Kiwi sensation Scott McLaughlin reckons it'll suit his Gary Rogers Motorsport car.
"I've heard the circuit is going to be quite hard to pass on," said McLaughlin.
"The circuit is fast and flowing and the turns are very long. It's going to be hard to follow someone - hopefully, it's not too bad though.
"Our cars should go well on these sort of circuits and, hopefully, I'll get a bundle of points."
Championship leader Jamie Whincup is the favourite for the Austin 400 and not just because he's the championship leader, or winner of the past two races at Barbagallo. His success offshore has been unmatched, the Red Bull Racing Australia driver winning 16 of the past 24 V8SC races held outside Australia, from Bahrain 2008 onwards.
On the flip side, Whincup's teammate Craig Lowndes (third in the series) has claimed just one of his record 91 ATCC/V8SC race wins outside Australia - a single race win in Bahrain in 2007.
Just two places behind Lowndes on the championship table is another Kiwi, Shane van Gisbergen, who has found consistency this year at his new Tekno Autosport team, which is reflected in his points tally.
"It should be pretty cool racing in America," said van Gisbergen. "Hopefully, we can get straight into it but I'm not too sure it'll suit our cars and there's bound to be a lot of action.
"Don't forget we had that DNF at the first race and were effectively last. We've been happy since then, consistently racking up the points.
"Fabian and James will have the early advantage having been there a few weeks ago but the rest of us will pick it up pretty quickly."
The third New Zealand driver in the field is Fabian Coulthard, who has really come into his own after getting his maiden win at Symmons Plains and is nicely tucked in at sixth in the championship. Coulthard and Courtney have turned a few laps on the American track.
"It's a pretty cool circuit with a lot of undulation with slow and fast corners," said Coulthard. "It's going to be an interesting weekend as none of cars have been there but at least I've done a few laps. Our cars should be all right there as we've been pretty good everywhere we've been this year."
The drivers and teams won't be going to Texas totally blind, but not as prepared as they would like to be. Should make for some great racing.

Points table
1. Jamie Whincup 958
2. Will Davison 893
3. Craig Lowndes 843
4. Jason Bright 797
5. Shane van Gisbergen 720
6. Fabian Coulthard 712
7. Garth Tander 689
10. Scott McLaughlin 589