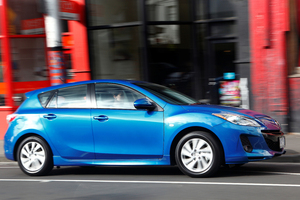 The dilemma: We have a 2001 Renault Scenic which needs to be replaced this year. The Scenic - the Corolla of France but a rare bird here - is brilliantly designed to fit our family of five and all our luggage in a car no longer than a Mazda 3. But it's European so, for the sake of financial sanity, we want to return to the Japanese mainstream. Trouble is, we live in inner-city Auckland and have only a tiny car pad to park a car off the street. Our next car can be, at very most, no more than 30cm longer than the Renault to avoid overhanging the footpath too much; and it must have a relatively low bonnet line to avoid colliding with the house's front deck supports, which rules out something like a Honda CR-V. Hatchback preferred. Might a Toyota Prius fit the bill? Every second taxi driver seems to drive one and they are definitely roomy, but I've heard they don't have much of a boot. Budget? Let's say $20-25,000.
- Peter from Ponsonby
Sounds like the older Scenic shares many similarities with the front-wheel-drive BMC cars of old that I served my apprenticeship on; ahead of their time in terms of generous amounts of interior space, but let down with ongoing reliability and build quality issues. I remember marvelling at the early Japanese cars and wondered how they could possibly put an engine together that didn't actually leak oil amongst other things!
Because you are fairly tight for parking space I suggest you run the measuring tape around the Renault to enable some comparisons to be done with other vehicles. Boot space may be another story, however, as you may have been spoilt with the Renault in that regard.
The budget: $20-25,000
The shortlist
Toyota Prius (2009)
Some of the best people to ask about overall running and ownership costs are taxi drivers and the ones I have spoken to over the years have always sung the praises of the Prius. They really shine in the inner-city environment and can virtually move from one red traffic light to the next on battery power alone. Battery life, however, is a debatable topic as these vehicles age. Best advice is to look at the latest model possible and buy from a source who can offer the best ongoing support and warranties, that is a Toyota dealer.
Mazda3 GLX Hatch (2012)
It won't have the same fuel-consumption benefits as a Prius around town but you will pick up the balance of new-car warranty plus the remainder of the Mazda Care free service plan (3 years or 100,000km, whichever comes first). Multiple airbags, stability control and Bluetooth are some of the standard features of this popular vehicle.
Honda Edix 2.0 litre (2004)
I have received many positive comments about this used import. It's a six-seater with three separate chairs in front (all with lap and diagonal belts). Pluses are its interior space and practicality, and Honda's reputation for reliability. Fits well inside your budget (buy for around $12K) and nice touches include an in-dash reversing camera. Downsides are vehicle age and a basic safety package.
Driven recommends
The Mazda3. If it fits the car pad and the luggage then it's hard to ignore.

Are you looking for a new car, or struggling to make sense of what's good and what's not? Write to driven@apn.co.nz and our man Jack will give you the right information to get you in the right car.