Smith in clear but he's always out to win, writes Andy McGechan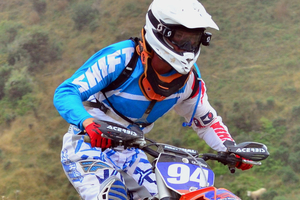 The fight goes on for the nation's elite off-road motorcycle racers.
The main prize may already have been snared but there will still be a mad dash to the finish line for other title hopefuls at this weekend's fourth and final round of the New Zealand Cross-country Championships in Central Hawke's Bay.
Mokau sheep and beef farmer Adrian Smith made it two consecutive national championship titles in a row and his third in total when he wrapped up the 2013 championship at the previous round of this year's series near Cheviot last month - his 2-1-1 results achieved at rounds one, two and three easily enough for him to clinch the overall title - and he won the over-200cc two-stroke class crown as well, but he is still determined to finish his campaign with a bang.
Smith heads to the farmland course at Ashley Clinton, near the intersection of State Highway 50 and National Highway 2, between Norsewood and Waipukurau, this Saturday, still keen to stamp his authority on the KTM-sponsored event.
"I will still be pushing hard for the win at the final round even though I don't need to," 27-year-old Smith said. "I always race to win."
Te Awamutu's Mark Penny wrapped up the over-300cc four-stroke class title at the previous round but hopes to win outright on Saturday.
Smith and Penny have little left to prove, unlike riders locked in battles in other classes.
They include Maruia's Ethan Bruce, Raglan's Graeme Goodwright, Auckland's Sam Greenslade, Marlborough's Scott Orchard, Raglan's Matthew Quirke, Palmerston North's three-time former outright national champion Adam Reeves, Woodville's Ben Exeter, Onewhero's Jim Orton, Morrinsville's Simon Lansdaal Cambridge's Andrew Charleston and Raglan's round-one winner Jason Dickey.
The runner-up spots in the over-200cc two-stroke and over-300cc four-stroke classes are still being fought over and winners have yet to be determined for the under-200cc two-stroke and under-300cc four-stroke.
"It has been a great series, with a variety of tracks and conditions really testing the riders," said Motorcycling New Zealand cross-country commissioner Chris Smyth. "The course this weekend will be another interesting battleground."
The junior grade is also likely to be fiercely fought, with Cambridge's Taylor Rae, Eketahuna's Charlie Richardson, Pukekohe's Isaac Clark, Marton's James Galpin and Marton's Ethan Breuer among the leading contenders to win the 90-minute junior race in the morning.