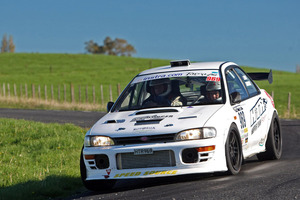 Targa rally stalwarts Tony Quinn and co-driver Naomi Tillett were unable to add to their previous single Targa Rotorua win and four main Targa wins over the weekend.
Those line honours went to tarmac rally specialists Leigh Hopper and Simon Kirkpatrick in a Subaru Impreza WRX.
Quinn was on the back foot right from the beginning, having to borrow Clark Proctor's Nissan GT-R35.
Quinn (who won the 2009 event) shared stage wins with Hopper (who won in 2011) on the first day of Targa Rotorua on Friday before winning all seven stages on Saturday and taking a 25-second overall lead into the final day on Sunday. His lead was eroded on Sunday when a sensor failure (allowing drive to only two wheels) forced him to slow, leaving Hopper to claim his second event win.
"And all credit to them," says Quinn. "Leigh did a great job, he fought right to the end, which was the right thing to do. Naomi and I also did the best we could do and that was it at the end of the day."
While Quinn's crew made a frantic dash to Hamilton for a replacement G-force sensor, Hopper pounced on the struggling pair in their Nissan. By the time a new sensor had been fitted, Hopper had the lead and hung on until the end.
"We weren't holding anything back on the final day, that's for sure," says Hopper. "We've been throwing the car at everything to try and gain some time back on Tony all weekend and we certainly had some really hot goes today. The car has been great. We were on the limit, really, all day, and the car has just been immaculate, unbelievable. Just the power and the predictability of it really made a huge difference to the times over any other car we have turned up to Targa with."
Quinn nearly didn't make it to the final day's racing because of an incorrectly fitted filter that released noxious fumes into the car's cockpit.
"But the boys managed to identify and fix the problem before it got too bad and after that it was just a matter of going at a steady pace," says Quinn.
Between them, Hopper and Quinn claimed overall and Instra.com Allcomers 4WD class wins in all 17 stages of this year's event with the Kiwi pair's winning margin less than a minute. Third in class and overall were Jason Gill and Mark Tapper in a Mitsubishi Evo9GT, with Brent and Samuel Early fourth in their Nissan Skyline R34.
Mike Lea and co-driver Grant Handley, in a Nissan SR20-engined BMW 3-Series Compact, maintained their Saturday lead in the Modern 2WD class, despite the best efforts of early pacesetter Richard Krogh and Glenn Sharratt in a late model Porsche 911, and Paul Tulloch and Paul Bass in a turbocharged Toyota MR2.
It was another Kirk-Burnnand family affair in the Metalman Classic 2WD class. Father-and-son combination Mark and Chris added two more class stage wins to their tally on the way to a class win by just over two minutes from Steven and Barry in a matching BMW E30 M3.
This event was the first in which Steven did most of the driving in the car he shares with his father, Barry. One of the highlights of the event for all the Kirk-Burnnands was Steven's debut class stage win on Saturday.
Auckland husband and wife team Tony and Joanne Butler had a fright on Saturday in their Chevrolet V8-powered HQ Holden-based Cheetah two-seater sports car. They had topped the Classic 2WD time sheets on Friday and continued to set the pace on Saturday, claiming two more stage wins before blowback through the car's carburettor caused an engine fire.
Visiting Canadian couple Kelly Silverthorn and Michelle McLeod finished in sixth place, just under a minute ahead of the similar Porsche 911 of father and son Eddie and Ben Grooten.