International rally good speed gauge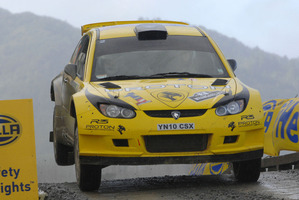 Most Kiwi drivers in this weekend's International Rally of Whangarei - including rising star Hayden Paddon - won't qualify for FIA points.
Rule changes mean that those competing in the event, which kicks off with a ceremonial event on Friday, will be ineligible for international points as FIA's latest set of rules prices most teams out of contention.
There are some pretty high-profile names competing this year, including three-time winner and 2011 production world rally champion Hayden Paddon in a Mitsubishi, and the highly rated Finn, Esapekka Lappi, in a Skoda Fabia.
As the rally is also the opening round of the Asia Pacific Rally Championship, other internationals who'll be keen to garner early series' points are Indian Gaurav Gill, Aussies Matt van Tuinen, Simon Knowles and Bruce Fullerton and Japanese pilots Hiroshi Asakura, Yuya Yamamoto, Makoto Kawahara and Frenchman Claude Clavel.
Out to keep them honest will be a number of Kiwi drivers, not least among them Richard Mason, Chris West and Emma Gilmour.
All in all, 51 teams will be hanging it out around the Northland roads in two categories. The internationally registered teams and cars run first, followed by New Zealand crews competing in the NZRC, Top Half Rally Series, or simply taking the opportunity to have fun.
The event also encompasses round two of the Brian Green Property Group New Zealand Rally Championship. This is the seventh time the event has run out of Whangarei and will be the only chance for local fans to see an international competition on its shores with the World Rally Championship rostered for Australia.
Paddon and co-driver John Kennard are off to a good start in the NZRC having notched up a win in the opening race at the Drivesouth Rally of Otago ahead of Mason and co-driver Sara Mason.
"I've really enjoyed being back in the seat and to be winning again after a tough past 12 months is a real bonus," said Paddon.
Major changes to the rules this year allow teams to do just about what they like with their cars. The major fallout is that very few cars will be eligible for FIA international points over the weekend.
"We're not in an FIA homologised car this weekend," Paddon said. "Although it is an R4 spec car, the same as the FIA allow, it's the same old story - money. The official R4 kit is $40,000 for all the parts with the right number stamped on them.
"We've made all our own stuff here for a lot less money and although the specs are the same we can't be classified as an official FIA car - and that's where the new rules fall down," he said.
It is easy to see why Paddon and his crew don't want to spend a huge amount of money on buying FIA accredited bits for their car when they're trying to get funding together to head back to Europe.
The good thing, though, is Paddon's car will for all intents and purposes be the same as the overseas visitors', so he and Kennard will be able to gauge their speed against the likes of Lappi.
"Basically those Skodas should have the upper hand but the big thing for us is to go up against Lappi. We'll be doing the same stage as them and so we'll have a direct comparison with times."
Rally rundown
Friday: Ceremonial opening and driver signing session.
Saturday: Leaving Whangarei at 8am, the route takes competitors over roads around Parahi in the southwest, Waipu Caves and Brooks including the Hella jump on Swamp Rd. They return to Whangarei for the new 1.5km Pohe Island Super Special stage before a 20-minute service break at the Town Basin. The route is repeated in the afternoon.
Sunday: Racing starts at 6.55am and heads south through Waipu Gorge and on to Marohemo and Batley Rd, taking in Paparoa and Cassidy Rd along the way, before returning to Whangarei for a 20-minute service break. The teams repeat the stages in the early afternoon, returning to the Quayside Town Basin for a ceremonial finish at 3.15pm.