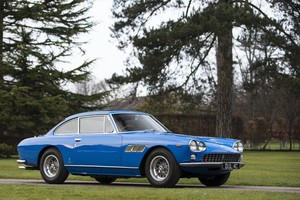 The car that gave John Lennon his ticket to ride is to go under the hammer.
The Beatle bought his first vehicle, a 1965 Ferrari 330GT Coupé, on the day he passed his driving test.
It is expected to fetch up to £220,000 ($407,000) at the Bonhams Goodwood Festival of Speed Sale on July 12.
The car was bought in the month the Beatles recorded Ticket To Ride, written primarily by Lennon, for the 1965 album Help!. The worldwide No 1 was the third of the band's six consecutive US chart-toppers.
The news that Lennon had passed his driving test made headlines across the UK.
Within hours the road outside the security gates of his home in Weybridge, Surrey, were jammed with Maseratis, Aston Martins and Jaguar E-types as luxury car dealerships - hungry for business - spotted an opportunity to secure a high-profile client.
The singer, by then father to 22-month-old Julian by his first wife Cynthia, strolled out to inspect the cars.
He chose a right-hand drive Ferrari 330GT 2+2 Coupé finished in Azzuro blue paint, with a blue interior, priced at £6500 (equivalent to just over $200,000 in today's money).
Lennon used the car for three years until October 1967 and covered more than 30,000km in it.
"It is a wonderful commentary on the early excitement generated by Beatlemania that John Lennon didn't even have to leave his house to buy his first car," remarked Sholto Gilbertson of Bonhams motor car department.
-Independent