High-tech gadgets are being developed to help solve the problem of bike safety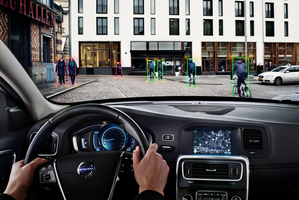 As technology goes, cycling is pretty lo-fi. The same cannot be said, however, for the recent string of inventions hoping to make cyclists safer on the roads.
Cycle Alert, which officially launches in Britain in August, is one such example.
Hoping to reduce collisions between cyclists and trucks - which are involved in half of London's cyclist fatalities - the device consists of a motion-activated sensor on the bicycle that communicates with sensors on the trucks, alerting the driver when a cyclist is present.
Entrepreneur Peter Le Masurier hopes Cycle Alert will solve the limitations of existing truck sensor systems.
"The current proximity sensors detect cyclists, but they also detect everything else," he explains. "[They detect] cars, railings, lampposts... some drivers were disconnecting the proximity sensors because they were driving them mad.
"Our products, however, only detect cyclists. It works around the entirety of the vehicle, covering all the blind spots. It's cheaper and, apart from one in the cab unit, there's no wires on the sensors."
Le Masurier hopes to achieve a critical mass by distributing thousands of free sensors. One of Britain's largest bicycle manufacturers has shown interest, while there is a possibility of future development in collaboration with the London cycle-hire scheme.
"My dream and goal is very much to have this fitted at manufacture, to have it as a de facto safety product," he says.
When it comes to urban cycle safety, trucks are the elephant in the room. Indeed, it was an incident in 2011 involving a lorry and Times journalist Mary Bowers that launched that paper's high-profile campaign for cycle safety. It's no surprise then, that Cycle Alert is not the only tech company attempting to tackle this large, yet still currently unresolved, problem.
Transport technology company ASL Vision combined the efforts of top scientists and engineers to develop a highly technical video device for the cabs of trucks. The ASL360 uses a series of wide-angle cameras mounted around the vehicle to synthesise a real-time bird's-eye view to be displayed in the cab so the driver can easily assess the whereabouts of any surrounding vehicles or hidden cyclists.
Not all solutions are so complex. TrafficAngel started off supplying camera systems and proximity sensors before moving on to cycle safety. Its CitySafe alarm for trucks plays a repeating warning message whenever the driver intends to turn left, quite simply telling cyclists and pedestrians to keep clear.
Simpler still is the Navevo satnav system for HGVs, which uses road data from Transport for London to flag risky junctions and hotspots on the lorries' GPS whenever they're approaching an area or junction used by a large number of cyclists.
Announced last month, Volvo is planning to fit vehicles with a system that uses radar to detect cyclists and pedestrians, and can apply automatic braking should the car come close to a collision.
But, as any cyclist will tell you, there's unlikely to be a one-size-fits-all solution.
"It's a complex issue. There's no answer," says Carlton Reid, executive editor of BikeBiz.com.
"Cycling is a lo-tech thing. People designing these things have to keep it simple."
For Charlie Lloyd, campaigns officer for the London Cycling Campaign and a former HGV driver himself, technology can only ever play a supporting role in safety.
"We need to be careful of the conditioning effect of when people rely on a device, rather than to expect the unexpected.
"The advice to cyclists is to never assume you've been seen, even, unfortunately, if someone is looking straight at you."
-Independent