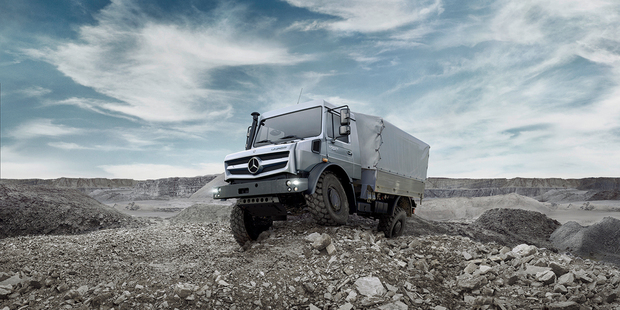 If the Zombie Apocalypse ever hits us - and we are beginning to wonder - The Good Oil has its new favourite zombie-squishing mode of vehicular survival all sorted, thanks to Mercedes-Benz launching a revamped version of its awesome Unimog.
The Unimog is essentially the single most manly automobile on the planet and the new version has expanded the range to 10 different models, with a panoramic cabin giving better visibility, multi-function steering wheels (we like to imagine for machinegun controls), an improved dash layout, improved HVAC and three-mode tyre inflation.
A four and six-cylinder engine line up is fully compliant with Euro IV and features BlueEfficiency technology (for eco-friendly zombie-squishing) and power outputs of between 116kW and 264kW, as well as something called a "synergetic traction drive", which allows changing from manual transmission to hydrostatic transmission while driving.
None of the changes really affect its offroad ability, but because they are so awesome, here are the numbers: it can drive through 1.2m of water, has an approach angle of 44 degrees, a departure angle of 51 degrees, can climb a 45 degree slope and has axle articulation of as much as 30 degrees.
Bring on the apocalypse.
Blindingly good
Sometimes you can get too much of a good thing, especially in the United States. In this case though, the good thing is light. Car lights, to be precise, as Toyota has just had to recall 11,000 FJ Cruisers because their lights are "too bright".
The problem is apparently with the Cruiser's auxiliary lights which, combined with the headlights, exceed the maximum output allowed by the NHTSA.
The 55-watt bulbs in the auxiliary lights will be swapped for 35-watt ones, to reduce dazzle.
We are the world
* An Indian man who let his 9-year-old drive his Ferrari and then uploaded a video of it to YouTube is facing charges for allowing an unlicensed child to drive. The footage sparked outrage in India, and the man and his wife seem to be the only people not bothered by it. "He has talent in him. He likes driving cars and drives them well," said the boy's mother. "We were trying to build the talent he has got."
* Brian Coleman, a former mayor and councillor in Britain who was extremely unpopular for passing strict parking rules, has admitted to assaulting a constituent who video-recorded him when he parked illegally to use an ATM.
* Illinois resident Erin James was caught speeding early one morning after a night out celebrating. She also happened to be over the legal breath alcohol limit. What had she been out celebrating? Getting her driver's licence back after a drink-driving arrest.
* Okay, we're starting to get sick of this now: it seems the Dubai police are still on a spending spree and have now added an Aston Martin One-77 to its fleet of super-patrolcars, joining the Lamborghini Aventador, Ferrari FF, Mercedes SLS and Bentley Continental GT.
High voltage
Forget the whole "glorified golf cart" thing - this is an electric car The Good Oil can get excited about; the third-generation Venturi VBB-3 is aiming to break the 495km/h world record top speed for an electric car set by its predecessor, the VBB-2.5, back in 2010.
Not just break it, mind you, utterly smash it would be a more accurate summary of what the team involved in the collaboration between Venturi Automobiles and Ohio State University is aiming for.
Where the VBB-2.5 just missed the 500km/h mark, the team is aiming for 600km/h this year, followed by 700km/h in 2014 and then even faster in 2015.
With a thoroughly silly 2200kW and 2800Nm thumped out by its twin electric motors, the VBB-3 will be the most powerful electric car in the world when it debuts at the Bonneville Speed Week in August (6th to 10th) this year.
The VBB-3 is 11.64 metres long and weighs 3.2 tonnes - over half of which is the weight of the batteries. It has an ultra-slippery drag coefficient of just 0.13 and features a carbon-fibre skin over a carbon-fibre/aluminium honeycomb composite tub.
Driver of the VBB-2.5 and existing record holder Roger Schroer will be doing the driving for the latest attempt, which is being dedicated to Camille Jenatzy, a Belgian driver who was the first person to break the 100km/h mark in 1899.
LaFerrari to get even more exclusive
It seems Ferrari has taken a long, hard look at the Lamborghini plan for separating rich people from their money and has decided to build a "more exclusive" version of the LaFerrari.
That's right, the car they were only going to build 499 examples of is going to get a run of "more exclusive" versions, expected to cost between $5.5 and $9 million each.
In an interview with Autocar, LaFerrari designer Flavio Manzoni said when he produced the original design proposals there was one proposal he thought was "especially beautiful", so decided to keep that one back for "something special in the future".
While the LaFerrari weighs just 1255kg, it is an open secret Ferrari long to build a road-legal car that sticks to the principles of the 2007 Millechili concept that weighed 1000kg. A "special edition" LaFerrari may just be the perfect way to do that, especially since all 499 "standard" cars are already sold.