Earl Bamber the shining light, writes Eric Thompson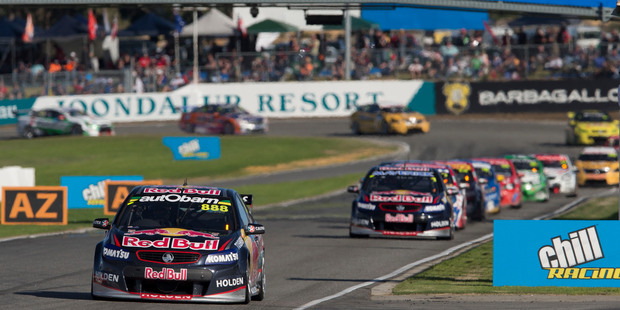 Overall, not the best of weekends for New Zealand race car drivers competing overseas, except for Earl Bamber. There were flashes of things to come, but everyone plying their chosen trade will be looking for improvements next time out.
Bamber leads champs
Earl Bamber is contesting the Porsche Carrera Cup Asia series and after taking two wins, including his first at the Chinese round at Zhuhai, now leads the championship. Rookie Bamber now leads defending champion Martin Ragginger and Rodolfo Avila.
"It's been an amazing time for the team," Bamber said. "We've slowly worked our way up and it's been a challenge over the first couple of races and last time we got really close at the top, so it's a great feeling to win."
With the championship heating up, Bamber will be keen to carry his race-winning momentum to the Ordos International Circuit, Inner Mongolia, for round three, July 5-7, before heading to Korea for the penultimate round and then the finale in Singapore.
Pity in Perth for drivers
Despite a mixed bag of results over the weekend the three Kiwi drivers in the V8 Supercars championship still remain inside the top 10. All three - Fabian Coulthard, Scott McLaughlin and Shane van Gisbergen - qualified well, but through various trials and tribulations couldn't manage a podium.
Coulthard, with a best place of fourth over the three races, realises they have to up their game.
"Leg one in race one was okay. I battled a little bit with under-steer so we just held station," said Coulthard. "We made the car a lot racier and better in leg two and then I arrived into the braking area of the last corner and had a left-hand tyre fail."
He qualified consistently fourth for both of Sunday's races, then lost a lot of time in a pitstop.
"It doesn't matter what I do out there, if we don't get everything right ... so it's a little bit disappointing. You can't throw away results like this that often."
Red Bull Racing Australia now appears to have its new Car of the Future working well, as proven by Craig Lowndes and Jamie Whincup. The teammates won all three races between them, with two for Whincup and the other to Lowndes. Jason Bright and Mark Winterbottom were the only other drivers to stand on the podium over the three races.
The weekend, however, belonged to Craig Lowndes who picked up his second win in the 2013 series in race one to break Mark Skaife's record of the number of V8 wins.
"It's obviously quite remarkable," said Lowndes. "It has been on the wish list since Adelaide but we failed in Tasmania and we failed in New Zealand. It's almost like your first victory."
Dixon's dud season
Scott Dixon's season has yet to fire up properly and his 18th-place finish in Sao Paulo, Brazil, will not have advanced his chances in the championship. The 2008 Indianapolis 500 and two-time series champion has struggled to find consistency with his car and has a best placed finish of second after four races.
"The start was okay, the pace was good," said Dixon, who qualified sixth. "We had the caution and the first restart, where we were fine, second restart, got into Helio and broke the front wing. After that, it was real easy to lock the front tyres so we slipped back."
The New Zealander dropped to fifth on 35 points behind series leader Takuma Sato, who was narrowly beaten to the race win by James Hinchcliffe.
Dixon now has a bit of a respite as the teams prepare for the Indy 500 on May 26.
Stanaway returns to track
Rising sports car racer Richie Stanaway returned to the venue of his massive shunt when racing in the Renault 3.5 championship and showed no sign of lingering doubt around the daunting Spa-Francorchamps circuit in Belgium.
In his first major hit-out in a year, the Kiwi driver brought his Aston Martin home sixth in class in the six-hour endurance race at the second round of the World Endurance Championship.
"We had some issues early in the race so by the time I got into the car for my stint we were already far off the lead of the race. But anyhow my stint went fine. At times I was matching the leader's pace and did a good consistent double-stint before handing the car back over to my teammates."
Stanaway's next outing is this weekend at the Spanish round of the Formula One series in the Porsche Super Cup championship.