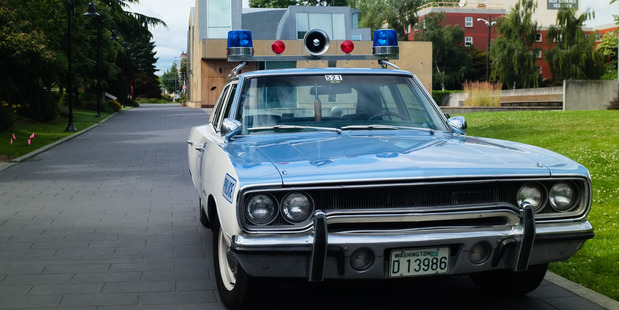 Okay, so now it's just starting to get silly; following on from the last two weeks where The Good Oil told you about the increasing numbers of super cars Dubai is adding to its police patrol car fleet, it seems that they are continuing to add more after buying a Mercedes-Benz SLS AMG and a Bentley Continental GT.
Where will this silliness end? With a Bugatti Veyron, more than likely.
But this doesn't really matter, because, of all people, the Seattle Police Department has Dubai topped. How?
By using restored police cars from the past! Since 2007 the department has run a fully-restored 1970 Plymouth Satellite police cruiser as part of its fleet, driven by 30-year veteran Jim Ritter who is also the man behind the restoration.
The Satellite is part of the Seattle Metropolitan Police Museum, a not-for-profit organisation that Ritter founded in 1997.
Along with local mechanics, Ritter and volunteers have restored six vehicles for the King County Sheriff's office, Washington state patrol and the Seattle Police Department, and are in the process of fixing up a further eight.
Under an agreement with the Seattle Police Department, Ritter uses the Plymouth as his everyday cruiser. The initial intent behind the Plymouth was to use it as a community relations and educational tool, but Ritter says he began to notice that people were attracted to the car. Once, he said, gang members approached him, dropped their swagger, and wanted to chat about the car.
"People will stop their cars and run across three lanes of traffic to get a picture of it and park their car in the middle of the street and block traffic," he said. "It has its drawbacks, but if those are the worst things to happen, I'll take it any day."
We are the world
Zombies have a lot to answer for in the modern world, especially if you believe 19-year-old Californian man Jeremiah Hartline's defence for stealing - and crashing - a semi truck. Hartline told police he had stolen the rig, and proceeded to crash it into a number of cars before jack-knifing it on a four-lane freeway, because he thought zombies were chasing him. There is some suspicion he was under the influence of a controlled substance.
A South Korean television network has banned Psy's long anticipated follow-up to his massive smash hit Gangnam Style, because he kicks a traffic cone. The KBS network banned the clip for the song Gentleman saying, "Infants or children haven't fully developed a standard for judgment and tend to believe and follow what's shown on television" and it clearly feared a rash of traffic cone assaults.
The 1964 Chevrolet Malibu driven by John Travolta in the cult film Pulp Fiction has been recovered after it was stolen - 19 years ago! The car was owned by the film's director, Quentin Tarantino, and was stolen just after the film was released. It was recovered in Oakland, California, and the man currently in possession of it is not involved in the theft; rather, he is said to be a victim of fraud.
Tribute timepiece a super-expensive wrist decoration
Haven't got the $2.5 million needed to score yourself a LaFerrari? Well, you probably won't be able to afford this either, but at least it is a slightly cheaper way to let the world know of your extraordinary lack of good taste. The Hublot MP-05 LaFerrari is a watch developed "entirely in parallel" with the Ferrari hypercar. Only 50 will be made, it comes with its own mini cordless drill to wind it, and it is horrifically expensive: $350,000 is the suggestion at this stage.
Schumacher does ... something else!
The first act of recently re-retired seven-times Formula One world champion Michael Schumacher following his appointment as something vaguely like an ambassador at Mercedes-Benz, is something quite awesome.
Even though it has been done before.
In advance of this year's 24 Hours of Nurburgring race - and apparently as a "thank you" to German motorports fans - Schumacher will drive a Mercedes AMG Petronas F1 W02 - the 2011 F1 car - around the Nordschleife.
It will be the first time since the great Juan Manuel Fangio won at the circuit in 1954 that a "Silver Arrow" Mercedes F1 car has run at the legendary circuit. Of course, Nick Heidfeld drove a BMW Sauber car around it in 2007, meaning that Mercedes Bavarian rival was actually the first to run a modern F1 car around the North Loop ...
In 2011 Schumacher drove a classic Silver Arrow Stromlinie W196 for a demo lap around the Nurburgring's grand prix track, and in 2007 he thrashed a Ferrari prototype on the Nordschleife.
Heidfeld's lap was slowed massively by his car wearing hard, demonstration tyres and for slow-downs to film the event. Expect Schumacher to follow similar restrictions.