Press the button on the new-look Jag XFR, and watch the world go by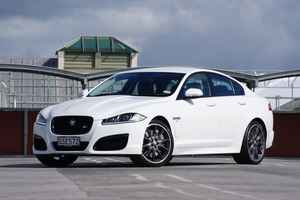 The Jaguar XFR. Photo / David Linklater
The performance-flagship model of the Jaguar XF range, the XFR, has gained an eight-speed automatic gearbox. Please allow me to get off on the wrong foot by saying that I'm not convinced it was desperately needed.
When it comes to gearbox ratios, more is usually better. Any prestige or performance car persisting with a six-speed automatic gearbox these days usually gets a wag of the finger from the critical press, me included. Seven's a minimum. Eight is rapidly becoming the norm.
Jaguar's superb XFR was stuck with a six-speeder when the XF range had a facelift last year. That's changed now, with the addition of an eight-cog gearbox that gives a broader spread of ratios and more even spacing.
But the XFR's 375kW 5-litre supercharged V8 is so smooth and strong, the old car never really felt like it was lacking on the road - only on paper.
The eight-speed is slick for sure, although there is one slight issue: with a higher top gear, in real-world driving on 100km/h roads eighth is not always the automatic choice for this car. Especially when that growling V8 encourages a regular prod on the right-hand pedal. Might be better to think of it as a seven-speed with a bonus ratio for good behaviour.
Despite that, the eight-speed is an advance in other respects.
The XFR is now 0.3s faster to 100km/h (4.6s), thanks partly to the gearbox's ability to change gears in 200 milliseconds.
The XFR has gained stop-start technology, which helps it to combined economy of 11.6 litres per 100km. The transmission can also make multiple downshifts - meaning it can skip gears on the way down, rather than having to go through them sequentially.
There's no weight increase over the old car, because the new transmission uses lightweight components and occupies no more space than the previous gearbox.
The XFR remains the super-sedan bargain of this segment - not quite up to the finely honed performance, handling and philosophical excess of a BMW M5 or Mercedes-Benz E 63 AMG (there's an XFR-S coming for that), but a lot less demanding, just as full of finesse in real-world driving and at $160,000, tens of thousands of dollars cheaper.
It's an easy car to love because it can be as boisterous as you want depending on driving style, but settles back into luxury-car mode with astonishing ease - possibly more so than its German rivals, which always have one eye on the quickest way back to the racetrack.
It's visually subtle, too - perhaps less so in the specification of our test car, which wore a "black pack" ($1700) and 20-inch Draco black alloy wheels ($750).
That's all a matter of personal taste, but it does show the XFR can hunker down and head west with the best of them.
This XFR - any XF, really - is really establishing itself as a clever choice in the luxury establishment. It's better value than ever before.
Jaguar has well and truly shed its senior image, and the cabin does feel quite special, despite a few irksome details - the gimmick of the XF "handshake" - where the vents automatically open up and the gear lever emerges from the console when you press the start button - has well and truly run its course. The touch-screen is still annoyingly slow to respond, despite some updates for the new model.
But the quality of the interior trim is exquisite, comfort is exceptionally good and the whole car just feels right. Especially when you press the little chequered flag on the centre-console for "dynamic" mode and watch the world fly past.
The bottom line: Eight-speed gearbox brings XFR in line with rivals on paper. In reality, it was always there anyway.