Jacqui Madelin gets her hair mussed in a Thunderbird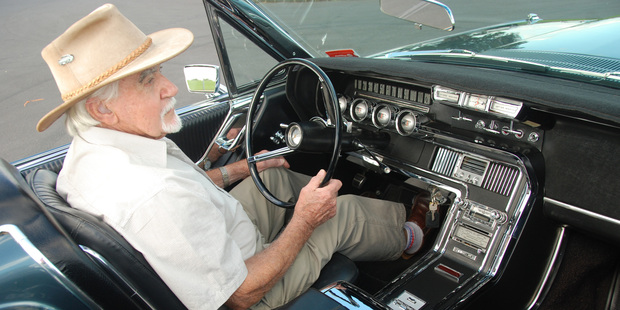 You get distracted talking to classic car owners; they're rarely one trick ponies and are often fired by enthusiasms, few more so than John Borrows.
His gleaming 1965 Ford Thunderbird's sitting outside but we're looking at his array of hand-made scale models, and he's telling me how he made the railings on the 100:1 Bismarck, about the history of the "Big Boy" steam train he's modelled to run on hidden electric motors and the arrangement of pipes, boilers and jackets that powered the 1829 Stephenson's Rocket - a set-up that went on to power steam trains for over 120 or more years.
For John doesn't just copy these things, he researches them and he's a fund of knowledge, delivered with a cheeky twinkle as he points out the tricks; the hidden wires that deliver electricity and the tiny props that lift wheels above rails, so you can see the linkages working without having to build a head of steam - or a full track.
That ingenuity helped him restore the Thunderbird.
"I knew I wanted a 1963-66. This one was in Christchurch. I'd seen pics but when I got it, it was nowhere near as good, so I had to pull it apart," he says.
Why the American car?
"When I finished my apprenticeship as a turner and fitter I had a Hillman Minx. I wanted a big American car but you couldn't get them without going to America for two years."
So he lived in Canada and bought a new 1960 Impala for C$3500, plus $100 for right-hand-drive.
After he returned he was driving down Queen St, Auckland, when "Colin Giltrap pulled me up. He bought the car off me for twice what I'd paid".
Next stint in Canada and by then married, John bought a 1968 Pontiac Parisienne and a Firebird and brought them home.
Eventually, they too sold, and he spent years in sensible cars but always wanted another American. This one had rust in panels and under the floors when he got it 13 years ago.
"Water gets in the convertibles."
He found the charcoal grey metallic colour code on the car but had extra pearl mixed in and it gleams as if lit from within.
All the shiny bits were rechromed.
"I made a rack to hold the little brass blades - sent it all to Gisborne to be rechromed and they said, 'Which car do you want us to do first?'.
"I had say it was all from one car."
The motor is as the Thunderbird came from the factory, with new rings and valves, new bands in the transmission - given a tidy-up.
"The suspension came out and we powder-coated it, took all the spring leaves apart and powder-coated them."
Gold paint highlights under the bonnet are original, though "I was tempted to chrome them".
This was the first year of disc brakes - they were drum before - and under the bonnet there's still a worn original warning label to alert you to their efficiency.
John's chuckling over the air con. "I think Ford just went down to the refrigerator place, got compressors and bolted them on. They're fridge compressors, and 13 years ago you could buy a new one for $350."
The tiny indicators that bracket the far reaches of the bonnet once sported flat glass, but John machined rocket-shaped Perspex as it looks better.
The original radio was of the valve variety - "I got a transistor one but it wasn't very good so got another with a CD." That's tucked under the dash.
We go for a cruise along the waterfront. Lovely, though it's like being in a boat: a floaty ride and, says John, the handling's floaty too.
"At 100km/h you get a lot of wind - they look good but it's pretty uncomfortable."
There are back seats under a cover and the roof lifts electrically to reveal an enormous boot, lined in cream and beige houndstooth, but it's top down that you'll most enjoy this car on a warm autumn day with a breeze off the sea.
But it's time to park up; there's a lot to do, for John's far from retired, and he's working on another project, designing an affordable incubator for third-world countries.