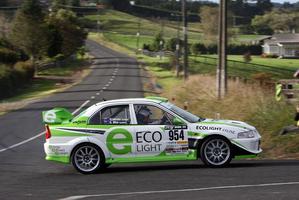 Targa New Zealand has taken on board the feedback from competitors over the past few years - with the common complaint being the issue of time.
All those who provided feedback agreed the events are brilliant and they wanted to continue to participate but they were finding it increasingly difficult to get time off work.
So to do the event justice there's a new date and look for Targa Rotorua next weekend.
For the five years up until 2011, the Targa Rotorua was run as a two-day event on Queen's Birthday Weekend. Last year it was run the weekend after to avoid clashing with Gypsy Day (the day dairy farms change hands and farmers and sharemilkers shift their herds) and this year it has been brought forward as part of a major reshuffle of the three-event Targa calendar.
As part of that reshuffle, the two-day Targa Bambina event run out of Auckland in March was replaced by a new single-day Targa Rally sprint event in Waiuku, Targa Rotorua gets a new date a month earlier, May 10-12, adding an extra day, and the Targa New Zealand event in late October and early November will be run over four rather than five days.
Bringing the date of Targa Rotorua forward, and adding a couple of competitive stages on the Friday - a day up until now reserved for documentation and scrutineering - has brought added benefits.
"For a start we give everyone involved a little bit more time between our two main events, Targa Rotorua and Targa New Zealand," said event director Peter Martin.
"By running the event in May rather than June we also get an extra hour of daylight, plus the greater likelihood of more settled weather.
"And because everyone was going to be in town on Friday anyway it's not going to cost anyone any more to do a couple of extra stages."
The extra stages are over the Manawahe/Braemar Rd east of Rotorua, with a service stop at Edgecumbe in between. Once they have run through the stage a second time, competitors return to the parc ferme on the Rotorua Village Green, opposite the Novotel Rotorua, for a car wash and show-and-shine event.
Saturday sees a return to the popular Waikiti and Ngakuru stages south of Rotorua in the morning, a lunch and service stop at Tokoroa, then four stages in the southwest Waikato before a return to Rotorua in the afternoon.
On Sunday, the field heads north for the Hamurana stage at the northern end of Lake Rotorua then back to the Waikato for stages near Matamata in the morning and Cambridge in the afternoon before returning via Paradise Valley near Ngongotaha to the finish line at the Novotel Rotorua around 5pm.
This year's event comprises 353 kilometres of closed road special stages ranging in length from seven to 26 kilometres. There are 60 entries spread across the three classes - Allcomers 4WD, Instra.com Modern 2WD and Metalman Classic 2WD - with 17 cars in the non-competitive Targa Tour.
Joint favourites are two-time and defending champions Glen Inkster and co-driver Spencer Winn in their new Mitsubishi Evo8 and five-time Targa New Zealand winner Tony Quinn and co-driver Naomi Tillett in Quinn's latest Nissan GT-R35.