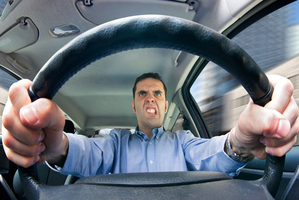 Hit a parked car and driven off without leaving a note?
You're among the most annoying drivers on the roads, according to a new survey.
The AA Insurance survey found failing to leave details after hitting a parked car was the driver habit Kiwi motorists found the most frustrating.
Next most annoying was drivers who increase their speed at a passing lane and then slow down afterwards - a habit more frustrating for drivers in the North Island than the South.
Third was drivers who `steal' a carpark you've been waiting for, followed by tailgating, and not properly restraining children in the car.
"When a driver is frustrated he or she is more likely to lose their concentration and take uncalled-for risks that can result in an accident,'' said Suzanne Wolton, AA Insurance head of customer relations.
Women were more likely to be frustrated by parking problems than men, while older people were more likely to be frustrated at an able-bodied driver taking a disabled parking space.
"Ultimately though, New Zealanders as a whole seem to find aggressive drivers frustrating regardless of age or experience,'' Ms Wolton said.
"It's important that motorists take their time and be courteous to all road users in an effort to avoid unnecessary risks and resulting accidents.''
The survey polled 1000 drivers aged 18 or over, who were asked to rate their frustration at 37 pre-defined actions.
AA Insurance's Top 10 Driver Frustrations
1. Drivers who damage your parked car and don't leave a note with their contact details
2. Speeding up at a passing lane and/or slowing down after the passing lane
3. `Stealing' a car park you were clearly waiting for
4. Tailgating
5. Drivers with children who aren't wearing seatbelts or properly restrained
6. Failing to indicate
7. Failing to dip lights for oncoming traffic at night
8. Aggressive behaviour
9. Not parking properly
10.Using disabled spaces in a car park when they shouldn't