But V40 T5 R-design still drips with safety features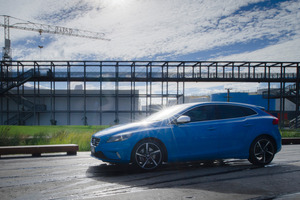 When you think Volvo, words like "fast" and "furious" don't come up. You're more likely to think "safe".
The company's reputation has long been more about advanced safety technologies, building family machines for the accident-prone or the utterly paranoid - and it's well-earned.
The V40 range has stepped out from the comfort zone and is arguably one of the best-designed and most stylish machines out of Sweden in many years - with the new T5 R-design version packing parts that defy the brand's sensible vehicles. A huge front airdam, skirts, a rear diffuser and an add-on roof spoiler with deep channels, big alloys and, in the version tested, an alarmingly vivid blue paint job.
This isn't to say that the wild little T5 isn't dripping with Volvo's latest and greatest to keep driver and passenger as safe as possible. In fact, it's even taking pedestrian safety to the next level, with the industry-first pedestrian airbag. If, in the unfortunate event that you bowl over a pedestrian, the car is not only applying auto-braking to avoid hitting anything, or anyone else, it pops out its rear bonnet hinges and lifts the back of the bonnet while triggering an airbag that covers the wiper recess, the bottom part of the windscreen and the A-pillars to minimise injury.
Volvo's safety suite is comprehensive, from passive features like its ability to read road signs and add them to the readout on its TFT dash display, through to the aforementioned auto-braking, which is active up until 50km/h and offers the sort of collision avoidance ability that is extremely useful in stop-start urban traffic.
A large combination of sensors, cameras and radar do everything from "see" pedestrians, auto steer you back into your lane, warn of impending doom and give visual and audio guidance to help you back into a parking space without scratching that stunning blue paint.
Having driven several of the V40 iterations, the cars impressed from the frugal diesel version right through to this performance flagship.
As the T5 moniker suggests, under the bulging bonnet sits a turbocharged five-cylinder - a 2500cc unit pushing out the 187kW that puts it in direct competition with
the likes of Ford's Focus ST and Volkswagen's Golf GTi, which will arrive in its new Golf 7 later this year.
Only available with the auto-shifting Geartronnic box, the car is perfectly behaved around town and only cracks out its full personality when pushed across to "sport" mode. Steering-wheel mounted paddles have been eschewed in favour of keeping the shifter in the traditional centre console mounted spot.
The 360Nm torque peak is impressive in a small-ish car, and gives the car the power to pull out 0-100km/h times in the 6.1 second region. It does suffer a bit from torque-steer when attempting these quick-shifting, foot-flat sprints, and wheel-mounted paddles would probably be quite useful to allow drivers to keep their hands on the tiller when coping with this front-drive side effect.
The transmission software gives a fairly aggressive response when burying the boot, and first gear is allowed a bit of wheelspin off the line and a bit of chirp as second is selected. The bold instrument layout keeps everything where you need it - the rev counter is front and centre, backlit brightly without searing retinas, and your road speed appears in the centre of that in large, easy to read numbers.
Navigation, multimedia and Bluetooth phone functions are all set up through the centre-dash screen, clear and easy to read, although those who aren't used to navigating through menu structures might find a quick flick through the manual helpful. The language used is fairly plain English, so the bluffers' approach of trial and error will furnish the same result after some cursory explanation.
The well-designed interior has a black-on-black vibe, which I quite like, but some find a bit dark, but it's all very comfortable and well-appointed, and the deep sports seats are extremely supportive, which is always useful when exploring the outer limits of grip.
And grip the V40 T5 does - on smooth surfaces particularly, the lower suspension and 18-inch Pilot Sport-shod rims and some clever front-end set-up means the car sticks to the ground and exhibits very positive turn-in. It's probably not capable of the same edgy sharpness as the likes of the ST, but still well-settled enough for a bit of adrenalin to finds its way into the system.
Harsher road surfaces can be a bit of a trial, particularly when pushing hard when there's dips and hollows exiting a corner - but with traction control, electronic brake force distribution and other tech tricks aplenty, it's more than able to hold its own when having a bit of back road fun.
The Volvo V40 T5 R-design carries a $64,990 sticker price, and its $49,990 D4 turbo-diesel stablemate is well worth a look for comparison purposes for those looking for something less racy, but able to haul along nicely at less than 4.5L/100km.