Kiwi driver in demand across Europe and US for his sports cars skills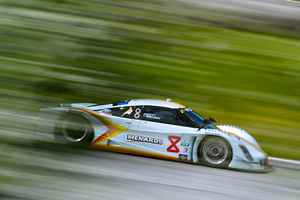 After a lean year in 2012, New Zealand professional racing car driver Brendon Hartley is starting to carve out a name for himself in sports car racing.
He made his debut in the category last year at the Le Mans 24 Hour race with Murphy Prototypes and at one stage the team was leading the class until a mechanical failure ended their chances.
On the back of his good showing, Hartley was asked to race a Daytona Prototype for the Starworks team at the Rolex Daytona 24 Hour.
Due to a subsequent standout performance, where Hartley was setting the same lap times as the number one car, he was signed to a fulltime drive. He's now bouncing back and forth between Europe and America, as well as fulfilling his simulator duties with the Petronas Mercedes Formula One team.
"I've been all over the show lately and it's hard work with all the flights and trying not to catch some sort of bug," said Hartley.
"It's good though, as it's giving me a chance to race a much as possible and open as many doors as I can, so in that respect it's going really well. It's going so well I've had to turn down other drives because I don't have the time."
Hartley has been either on the pace or leading his class every time he jumps in either his LMP2 car in Europe or the Daytona Prototype in the US. However, he has been beset in his recent races by mechanical gremlins or driver error.
"I was pretty bloody quick in the wet at Silverstone and stormed to the front. I had a hefty lead but the rain kept getting heavier and I spun off. The thing about that race though, is just about everyone went off and the race was eventually red-flagged.
"At the race in America I was quick again and leading with 15 minutes to go when I came into contact with a GT3 car I was passing," said Hartley.
It's easy to dwell on "could've, should've, maybe" and the like, but the important thing is his teams on both sides of the Atlantic are very pleased with the speed the Kiwi is consistently showing every time he races.
The American Rolex series has a twist for Hartley, who is ranked as a platinum driver (the highest) and then there are gold, silver and bronze ranked drivers. As part of the racing in Europe, Hartley has to be partnered with a driver who is at bronze/silver level and so makes winning more of a challenge.
"My job is to help my racing partner and improve his racing and in Europe every team has a bronze or silver driver.
"In the US it's different where you can have two gold or platinum drivers in the same car against someone like me who still has a gentleman driver. Makes it a bit more of a challenge," said Hartley.
His next event is at Imola, Italy in the European Le Mans series on May 17-18, and Hartley is pleased to be back racing in Europe.
"It's nice to be back but I haven't raced at Imola. I can't wait to get there, as I love learning new circuits.
"I pride myself on being able to learn new circuits very quickly and I love the challenge of it. Can't wait," said Hartley.
For those who don't follow endurance racing there is a perception the drivers are circulating at only around 90 per cent. Nothing could be further from the truth. The cars are strong enough to be hurled around the track at full noise right on the ragged edge, meaning the drivers are also at full capacity - for hour after hour with no let-up.
"We're not just driving around on a Sunday afternoon, it's pretty serious stuff," said Hartley.