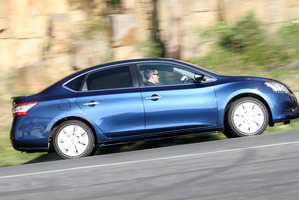 The dilemma: Casey's second family car is a 2001 Honda Accord that not only helped convert her husband from a V8 fan but she also finds it so enjoyable that she's reluctant to say goodbye to it.
But with servicing bills increasing, and more trips around town rather than the school and supermarket runs, it's time for a trade-in.
"I'd love another Accord but what else is out there in that mid-size sedan segment?" she asks.
The family's main vehicle is a 2011 Skoda Octavia diesel that impresses Casey and her husband due to the fuel economy - they travel out of town most weekends - and the features.
Well Casey, sedans have dropped off the radar for many buyers, losing out to five-door hatches or SUV-styled vehicles as they can offer better overall practicality. The one positive thing about later model sedans, however, is you don't have to think big to get a vehicle which offers generous interior space.
Your 2001 Accord would have a similar boot capacity and rear passenger space to a later model Honda Civic which means better fuel economy and similar, if not improved, performance from a smaller and less complicated engine.
For those wishing to find a vehicle to accommodate equipment such as golf clubs and trundle, a sedan may also offer better boot space and security over a hatch or SUV. The downside of most sedans (and some hatchbacks), is the difficulty in entering and exiting the vehicle as they are often designed with low ground clearance.
The budget: $25,000
Honda Civic
If you like the Honda brand look at a 2009 2-litre Honda Civic. Highly specced including leather trim, sunroof, cruise control and multiple airbags plus stability control. The Sport model has a factory body kit including a subtle rear spoiler.
Kia Cerato
The five-door hatch is being offered at some Kia outlets for $25,999 (pre-registered with 1000km only). Nice touches include Bluetooth and iPod dock while all safety bases are covered including stability control. Price includes a five-year warranty and roadside assist programme.
Nissan Pulsar
The all-new sedan has not long been released to the New Zealand market so all bases are covered in terms of driver comforts and safety, plus it's big on interior and boot space. The retail price is a little over your budget but no harm in looking. You may pick up an ex-demo or pre-registered model which could get you over the line financially.
Driven recommends: If you like sedans, check out the Nissan Pulsar. Why buy old when a new car with full warranty is almost within your grasp.

Are you looking for a new car, or struggling to make sense of what's good and what's not? Write to driven@apn.co.nz and our man Jack will give you the right information to get you in the right car.