Meremere will be the scene of some serious point-scoring this weekend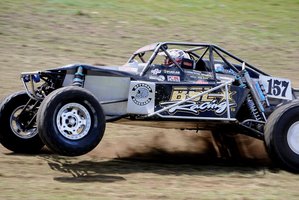 North Island offroad drivers get their chance to score some points when they race at Meremere for the first round of the northern leg of the NZ Offroad Championship this weekend.
The short-course action will bring new cars, trucks and specials to join the 40-odd competitors in the hunt for national points.
Leading contender for the overall win is 10-time national champion Tony McCall, who has been fine-tuning his BSL Terra Chev single-seater.
"The car has had little niggling issues with fuel and stuff, but now we have its measure and this weekend we're going out ready for battle," said McCall.
"The handling is sorted, the power is amazing, the car hooks up out of corners and, even better, we go up against some of the fastest unlimited-class cars in the country. So this is a true measure of what a V8 mid-engined car built to New Zealand conditions can do."
After the last round in Twizel over Easter, five southern drivers share the lead on a maximum 72 points.
Vince Harvey, Wayne Moriarty, Roger McKay, Brett Granger and defending champion Hamish Lawlor all took top points in their classes.
McCall leads the unlimited race car class to challenge Malcolm Langley for yet another championship title. Paul Smith and Paul Eayrs are also in the mix. Langley's Evo-powered single-seater has been rebuilt over the summer and will put up a tough challenge.
In the unlimited truck class, there will be a showdown between new trucks built to American Pro Lite rules, with Mike Cox, Nick Hall, William Van Der Wal and Graeme Steedman all looking to bring their rigs to battle.
Justin Leonard's non-Pro Lite Chev truck has been fitted with a new Corvette V8 engine and will travel from Wellington.
Anthony Hewitt is bringing the big Dodge out in class two, while Langley, the class one champion, will defend his title from at least three other unlimited-class cars.
Dyson Delahunty moves up from Kiwitrucks into a nicely prepared class seven.
One entry to watch out for is the VW Beetle formerly campaigned by Australian Roly Dixon, which makes its New Zealand championship debut in the hands of seasoned campaigner Maurice Bain.
The Beetle races in class nine, but has proven itself well able to match the pace of unlimited-class race cars.
Every finish and point counts in the championship this year.
The sport's flagship international race, the Taupo 1000, takes place in September and the championship has been shortened to enable teams to budget for the big endurance race as well as the championship.
That means northern competitors have only two chances to score points before the national finals in Raglan in October.
Racing starts at 10am today. Competition is in heats based on race car classes, and there are four heats for each class.