Audi's new RS 6 Avant likes to lead and has the grunt for it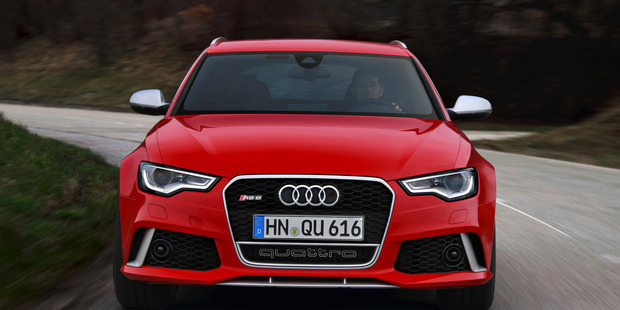 Well, this is a bit embarrassing. Upon our return to the media base in Munich following an afternoon in the new Audi RS 6 Avant, one of our hosts has a couple of questions.
"You enjoyed the car?"
Of course.
"And you enjoyed the time driving on the autobahn?"
Well, I might have enjoyed it more if I had actually known we were on an autobahn. An opportunity missed, then. I did think it odd that the traffic was moving at 200km/h-plus in places. But happy to join in.
In this case, ignorance of the lack of speed-limit enforcement was no excuse either, for I've been to Munich many times in many different cars. We'll just chalk it up to not clicking to the obvious this time around, then speak no more about it.
Still, even a quick blast past 200km/h does illustrate how family-size supercars like the RS 6 make so much sense in Germany. They are big vehicles designed to carry people and luggage at high speed across the motorway network.
Outrageously powerful engines guarantee a place in the outside lane, length and low ride height ensure stability and immense brakes endow the drivers with confidence should overseas motoring writers be meandering along in the wrong place.
A machine like the RS 6 is not a toy like a Lamborghini Gallardo: it's a high-tech tool designed to get you and your team to B before you've even realised you're out of A-district.
In New Zealand, cars like these are more likely to be bought because they are the very best of their model line, with an appreciation for their abilities rather than a need (or even opportunity) to use them regularly. Nothing wrong with that: a genuine Audi RS is a highly desirable thing to own as well as to drive. Especially in this, the 30th anniversary year of quattro GmbH, the subsidiary company that creates Audi's RS cars.
You expect excess from the RS brand, but Audi can boast of a less-is-more philosophy with the new RS 6. The engine has downsized from 10 to eight cylinders, produces slightly less power and, thanks to greater use of aluminium construction (courtesy of the A6 on which it is based), is 100kg lighter than the previous model. It consumes 30 per cent less fuel: 9.8-litres per 100km on average, with help from Cylinder On Demand (COD) technology that turns the engine into a V4 in gentle driving.
But, while the new RS 6 is kinder to the environment, it's a Kinder Surprise in other respects. The previous car's 0-100km/h sprint of 4.6 seconds looks positively tardy next to the new car's astonishing 3.9 seconds. The exhaust clatters at low speed and howls antisocially up high; you have to hear it to believe it.
The steering system is now electromechanical, which saves energy and allows for self-parking technology. That's probably not a plus for enthusiast drivers. But the Dynamic Steering option introduces a variable ratio system, which changes the way the tiller works depending on speed and the drive-select setting chosen by the driver.
This is the first RS to ride on air suspension, although the quattro four-wheel-drive system is pleasingly old-school: a purely mechanical connection that's biased 40/60 front-to-rear in normal driving.
The appeal of the RS 6 is much as it ever was: explosive performance combined with surreal traction. But now, it's delivered with a lighter touch and more driver involvement. And solely in Avant wagon form for now, such is Audi-RS tradition.
You may ask how much the RS 6 shares with the S6. Less than you may think. They share engine capacities, but major changes are made to internal components for the RS 6 powerplant and the difference in outputs is vast: 412kW/700Nm for the RS 6 versus 309kW/450Nm for the S6. The gearbox is an eight-speed automatic rather than the seven-speed S-tronic dual-clutch. The steering, suspension and brakes are specially configured for this car. Audi does not do its RS models by halves.
You may wish for more styling differentiation, especially as the signature-RS squared-off wheelarches have not made it on to this car (although the guards are indeed wider). Look, instead, for the gaping front bumper, faint "quattro" script in the lower intake below the number plate, or perhaps those big brakes. The Germans like their supercars super-subtle.
But make no mistake: the RS 6 is a highly specialised, very special car. A potential buyer has every right to expect that: the previous RS 6 cost $257,900 when it last appeared on Audi's local price list - almost $100,000 more than the current S6 Avant.
In Australia, there are reports the new RS 6 could cost up to $30,000 less than the previous model.
Audi New Zealand is still in negotiation with the factory over pricing, but is it too much to hope that the same might apply here? We'll find out in November. Hold on tight now.