North Harbour Stadium became the Blue Oval when Fords and their fans got together last weekend. Jacqui Madelin went along for the rides.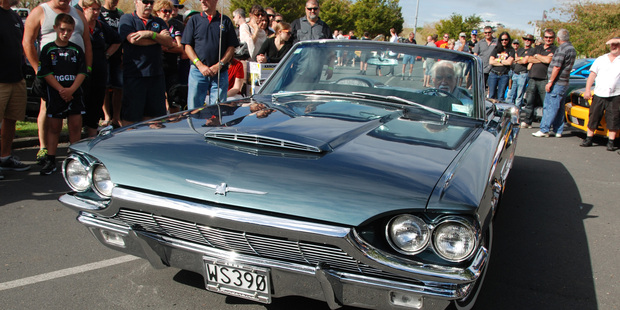 A matte-brown rat rod faced a line of lolly-bright hot rods. An elegant 1928 Model A was parked near a low-slung GT40, the 1976 International truck interrupted a line-up of Gran Torinos, Galaxies and Zephyrs. Three Anglias prompted a debate on the colour of the Weasley family's car in the Harry Potter movies. And Mustangs - flying ponies ranged as far as the eye could see along North Harbour Stadium. Around 100 of them.
In between better-known cars was my favourite - a Lotus Cortina, in original nick and driven a few hundred k's to attend the annual All Ford Day.
It's an annual event where the brand's enthusiasts come to Auckland to show off their vehicles. It began as a club show day several years ago.
Every year the committee chooses a charity to support - this year it was Kids in Cars, set up to raise money for children living with cancer.
A casual format encouraged mixing, mingling and car talk punctuated by the sound of mighty engines, overlooked by Auckland Ford dealers and the classic-lovers among their petrolhead staff.
Prizes were drawn randomly for categories covering English and Euro Fords and kit cars, and of course those Mustangs.
Judges awarded honours for best wheels, paint, body and engine with the ultimate prize saved for last - the People's Choice, won by an immaculate 1965 Ford Thunderbird convertible, owned and driven by John Borrows.
He's had the 1965 car for 13 years. "It was an ordinary rough driver when I bought it. Someone had painted it red, and I realised we'd have to pull the whole thing apart, take out every nut and bolt and rebuild it. It took about two years to get it all back together again."
A regular prizewinner when first completed, it'll be instantly recognised by Thelma and Louise fans (though the girls drove a 1966 Thunderbird that could never have been this tidy.)
What happened to the red? John found the original colour code on the door, but when the colour was mixed he had extra pearl added to give the charcoal grey a sheen that Henry Ford could never have envisaged when he ordered the second-generation Model T to be painted black so it would dry faster on the first assembly line.
See next Saturday's Driven for a feature on John Borrows' Thunderbird.