Jacqui Madelin gets to grips with one of the bike world's true heavyweights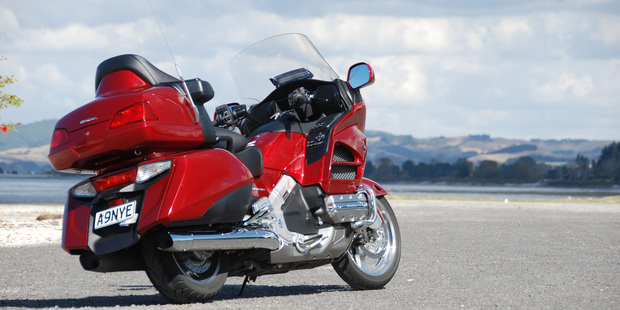 Talk about scripting a rock video; a long, straight line of big-bellied orange-clad road workers punctuated by one tall, tattooed young muscle-man all nodding in time to the rock thumping from my mount's six surround-sound speakers and then, as one, swivelling an upward thumb; ZZ-Top eat your heart out. Except I'm not custom-cruiser mounted but aboard a mother-ship; Honda's mighty 1.8-litre, 421kg Goldwing.
Yes, that is nearly half a ton and it looks it from the pilot's seat. The previous model's six CD stacker has gone but there's still the satnav screen, the banks of buttons, dials and knobs controlling the sound system and its speed-modulated volume, the heated seats front and rear, the radio and aux ports, USB charging my cellphone, the electronic suspension; there's even a tank-top-mounted rider airbag ...
Yet this is more than just an armchair designed to roll two comfort-lovers across far horizons, as I discovered on turning on to the Kopu Hikuai road. For today's Japanese-built Goldwing delivers lean angles designed for real bends, not America's endless highways. And it's certainly got the power to overcome the heft, the 1832cc six-cylinder engine dropping 87kW and 167Nm via five speeds and shaft-drive to that hard-working rear tyre, while the three-piston brakes are backed up by ABS and a linked system that touches the rears when you pull the fronts on.
The Goldwing's not at home on the 25km/h corners that dominate my commute, but on the Kopu's series of smooth, 55km/h and 65km/h arcs it's impressive; tipping in, carving round and hauling out with a confidence that belies its size; squirting past traffic, then stretching its legs on the straights while you sit in the quiet air behind that barn-door screen, vents offsetting the negative pressure forming at the back of the bike to improve stability.
But it's as I slowed on the hard shoulder and realised this wasn't seal but gravel that I also realised if a wheel started to slide it'd be all over rover, as there's no way one person can lift this $44,995 behemoth, for all that its little engine protection extrusions keep as much of the plastic off the scratchy, scratchy ground as they can.
It's also then that I realised you can't just flick the sidestand down either, for almost any camber will make it tricky to regain the vertical, and the surface doesn't have to be that soft for the stand's tiny foot to sink in under this thing's sheer heft.
And that's with the 150 litres of storage supplied by panniers, topbox and useful glovebox all empty, and no sweetie to my rear, fiddling with their own cubbies and dials.
Thank goodness the triple box-section frame is aluminium - yes, the Goldwing could have been heavier.
All that said, this engine's flat-six format helps keep centre of gravity low, as does the petrol tank's possie well under its traditional position, which is why this average-sized woman can ride it and even, with the help of a reverse gear operated off the starter motor, manoeuvre it about. With care.
Honda's Goldwing isn't a likely target for commuter buyers. But it's the last word in comfort for long-distance tourers.