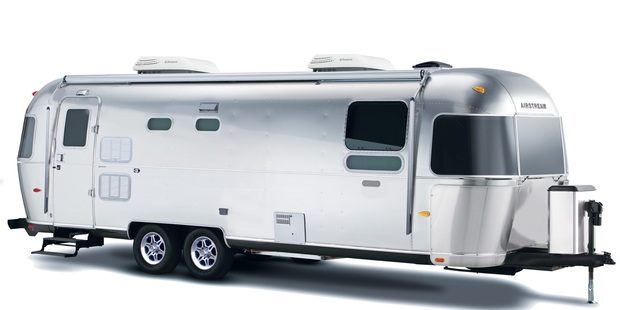 While it might be getting too cold to spend the weekend parked up in your caravan at a windswept campground, the new Airstream concept Land Yacht has made us want to hitch it up and take to the New Zealand roads.
The caravan is 8.5m of pure classy luxury that will be put into production.
The caravan can sleep up to five people, has "a bedroom in the front, a bathroom amidships, and a rear social space, which includes a galley that can be hidden when not in use", according to Airstream.
The Land Yacht's powered bed lift reveals access to hidden storage and the unit features three power awnings, with remote control.
It's built with high-lustre teak and white wood inlay boat-deck flooring and LED panel lighting elements, Corian solid surfaces and plush Ultraleather.
Airstream hasn't released any details on pricing yet, but it would be more than a 1970s caravan found on Trade Me.
Dubai cops cruise in style: Part 2
Last week The Good Oil brought you a story about the Dubai police adding a couple of Lamborghini Aventadors to their fleet of patrol cars.
This week they have added a Ferrari FF, because if you are gonna go big, you may as well go completely over the top.
Dubai police chief Dahi Khalfan Tamim justified the choice of car: "Dubai is a unique city and everything in it should reflect its uniqueness. And for that reason, police will add a Ferrari sports car to its patrol fleet."
Which is close to "Because we want to".
Cost of going green puts carmakers in the red
As luxury hybrid carmaker Fisker spirals into the black hole of bankruptcy, it has been revealed that the company's business plan may have been flawed.
A report by research company PrivCo apparently shows that the total money Fisker spent - including US$193 million ($230 million) in government loans - averaged out at US$660,000 ($785,000) a car on the 2500 units built, meaning that the company lost US$557,000 on every car it sold.
News of Fisker's losses came at the same time Fiat chief executive Sergio Marchionne said his company would lose US$10,000 on every electric Fiat 500e it would build, despite government subsidies.
Marchionne said: "Regulators are rushing precipitously towards embracing electric vehicles as the only solution. Doing that on a large scale will be masochism in the extreme."
Meanwhile, Maserati boss Harald Wester has described electric cars as "nonsense", saying regulatory bodies need to take a more realistic approach to how they measure emissions before pushing through regulations that favour them. In an interview with British magazine Autocar, Wester said: "All this discussion about zero emissions is nonsense. Nobody talks about the efficiency of how the battery is charged. It varies strongly from region to region, depending on how the energy is produced - nuclear, coal and so on - but even the best is not ahead of the internal combustion engine."
Wester cited statistics that suggest average power station efficiency means the average electric car requires 86g of CO2 to be produced to travel a kilometre in Europe, 110g/km in the US and 191g/km in China.
"If we want a realistic solution to emissions then the regulators need to be more honest in how they calculate emissions. Electric cars are not the answer."
We are the world
* A 6-year-old from Michigan took his family's Ford Taurus wagon out for a drive because he wanted to go back to the Chinese restaurant where they ate the night before.
His journey ended when two other drivers noticed him.
When the police arrived he told them he was going to get Chinese food and get the car fixed.
* At the other end of the driving ability scale, a New Jersey man was sentenced to 55 months in prison for car-jacking a Porsche 911 turbo. The perfect getaway vehicle, you would think. So why was he caught? He discovered, after forcing the owner out at gunpoint, that the 911 was a manual and he didn't know how to drive it.