Kiwi makes comeback with new team after year away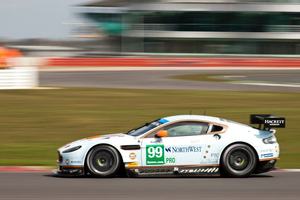 Young Kiwi driver Richie Stanaway will race Aston Martins in the World Endurance Championship GT Pro Series.
After nearly a year of rehab following a serious crash, and being out of a race car, New Zealand driver Richie Stanaway has signed to race an Aston Martin in the World Endurance Championship GT Pro Series.
Stanaway will contest the remaining races in the series to go with his Porsche GT3 Supercup championship, a support category to the European Formula One races.
Stanaway's management has completed negotiations and he joins the Aston Martin TG-AMR North America Team and will likely be in the car that won the opening round at Silverstone on April 14.
The 21-year-old's first outing with the team will be at Spa Francorchamps, Belgium, on May 4 - the circuit where he last raced, and had his serious crash, fracturing two of his vertebrae.
"The fact I now have two championships to focus on will keep me really focused," said Stanaway from his UK base.
"It's quite interesting how it all came about. I went to the US in March and tested at Road Atlanta and then on to Florida to test again before the Sebring 12-Hour race.
"I had the option to participate in the 12-hour race but I had already committed to race in the Australian Carrera Cup event at the Melbourne Grand Prix."
Stanaway also missed the first round of the World Endurance GT Pro Series at Silverstone in England while the team and his management sorted out the paperwork.
"That's how it goes, I suppose. The weird thing now though is my first race is back at Spa where I had my injury 11 months ago. It's been a pretty long break and racing back at Spa will be interesting," he said.
"I can't wait to get out there and blow some of the cobwebs away and get back into a racing environment.
"The Aston and the Porsche are quite different cars to race. The category the Aston races in the WEC is GT2 and the Porsche is GT3. The Aston is quicker and has a bit more grip and, to be honest, is a nice car to drive.
"Obviously the Aston and Porsche categories require different sorts of racing as one is more a sprint [Porsche] and the other [Aston Martin] is an endurance event," said Stanaway.
The following weekend Stanaway will race at Catalunya, Spain, for the first round of his Porsche Supercup after only two days testing at Barcelona.
"It's going to be hard as the circuit is tough on tyres," he said.
"During testing it was hard to get a feel how the car will work on new tyres, but during the testing I found I was pretty comfortable.
"We were supposed to have more practice and testing in the run up to Spain but I've just found out it's been cancelled, which means we won't get any more testing.
"With only the two days [of] Porsche testing for me it's going to make it hard going up against those who've had seasons in these cars.
"It's not going to be easy but then if it was it wouldn't be fun. It'll be a good challenge, though," said Stanaway.
Racing in these two quite different categories will be a challenge for Stanaway but he'll gain a huge amount of experience in the two disciplines.