Paul Charman reckons Thunderbirds fans were entitled to machineguns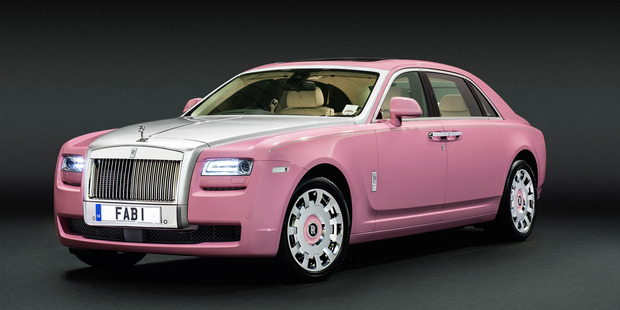 OK, it's a Rolls-Royce, it has the FAB1 plates and is finished in Lady Penelope's favourite shades of pink.
But some of us old, hard-core Thunderbirds fans will be disappointed with the one-off Ghost Extended Wheelbase Roller, made to raise money for charity.
The idea was great, of course. The "replica" was created for BBC Radio 2 host Chris Evans to hire out over the next 12 months - for a cool $9000 a day, with chauffeur.
They say it could raise $1.8 million for the British Breast Cancer Care advocacy group.
Don't get me wrong, that's certainly a positive aim. But it just seems like another pink Roller, so really a bit of a half-baked effort.
Thunderbirds always overwhelmed our childish imaginations with gorgeous overkill, while this project underwhelms with cosmetic bling and little substance.
You needn't be a fan of mid-60s' Supermarionation to notice big differences.
The "real" Fab1 had six wheels (four at the front for steering); it could be remote controlled by Parker - the chauffeur with that distinctive "milady" - and had a couple of retractable 50-calibre machineguns under the headlights. The "real" FAB1 was an iron fist in a velvet glove; this thing is all velvet glove.
The exterior is said to be eye-catching with chromed-wheels consisting of pink hubcaps.
The interior comprises pink highlights strewn through the Creme Light leather interior and pink Breast Cancer Awareness ribbons hand-embroidered on the headrests.
Other highlights include FAB1 sill plates, pink lambs' wool floormats and pink-accented umbrellas. Yawn.
Remember how the old Thunderbirds always went one better? I mean, if the Tracy brothers discovered a desert oasis, it had a deep lake with an ancient temple at its depths; or if they discovered a pyramid in the desert, it had a forgotten race of aliens living inside, and so forth.
To me, this FAB1 project has just gone "one less".
Don't get me wrong, I'd certainly cross the road to see it. But had Rolls-Royce pulled out all the stops and created a car the way Gerry and Sylvia Anderson created their wonderful science-fiction shows, wow, I'd have flown to England.