Teen star revs up for Bahrain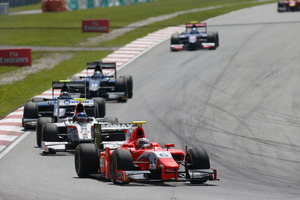 There'll be plenty of expectation on Mitch Evans' 18-year-old shoulders as he revs up his MW Arden for tonight's GP2 race in Bahrain.
But the young Aucklander admits it's his own fault, after a great start to his first season in the Formula One support class.
He claimed his first championship point in race one at the opening round in Malaysia by finishing 10th. He followed that with a podium finish in race two and lines up this evening for the series' second event in the Gulf state at sixth on the points table.
Evans' measured approach to the good, the bad and the ugly of racing has seen him win titles in just about every category he's contested. However, even he's a little surprised how well the season has started.
"I was pretty surprised we managed to get a podium [third] on our first weekend of racing," he said from Dubai.
"I really hope we can push forward and get even stronger results. I think we have the potential to do that - we just have to keep improving as a team and I've got to keep improving as well."
Evans hasn't regarded his step up in classes as a given and has treated the new category, and rival drivers, with respect.
"Whenever you move up to another class there's always that little bit of doubt whether you're going to adapt to the car and the other drivers around you.
"You worry if your driving style doesn't suit the car. It's good to gain some confidence, and I'm just hoping we can build on it and get even better results."
Like the Malaysian GP track, this will be Evans' first drive on Bahrain's Sakhir International Circuit, but he has the ability to quickly learn new layouts and track nuances.
"It's all been good so far and it's time to build on our early results. I'll be going there with all guns blazing."
The GP2 category is the final stepping stone to F1. The gap in machinery and driver capabilities between the two classes is bigger than any other.
Running order
Race 1: Grid decided by qualifying; 170km, one compulsory pit stop and minimum of two tyres changed
Race 2: Grid will be finishing order of race one, with the top eight reversed; 120km, no compulsory pit stops