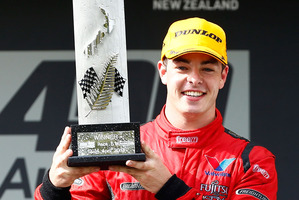 A Christchurch teenager who helps to build his own car carved a special niche in New Zealand motorsport history yesterday at Pukekohe.
Back at the track that Greg Murphy ruled for so long, 19-year-old Scott McLaughlin became the youngest winner of a V8 Supercars race when he took the chequered flag in the first 100km race.
Series leader Jamie Whincup took the second race at the ITM 400 but the day was all about McLaughlin.
With the event returning to the South Auckland track after a six-year hiatus, it felt like nothing had changed as the crowd stood to a man to cheer home a local favourite in a red Holden.
"[The reaction of the crowd] sent goosebumps through my body - I will never forget it," McLaughlin told the Herald on Sunday. "You see people clapping, yelling and fist pumping and you think, how the hell am I going to concentrate? I felt like I had the whole of New Zealand on my shoulders."
While the race wasn't as tense as Shane van Gisbergen's victory in the Hamilton rain two years ago, there was still plenty of drama.
After Whincup punctured on the first corner, Mark Winterbottom confidently held the lead until the 12th lap (of 35) before he too experienced tyre problems. It gave the New Zealander, who had started from fourth place on the grid, the chance to grab the lead.
"There was a lot of debris [from Winterbottom's car] so I had to find my way through," said McLaughlin. "When I got through, I thought, holy crap, I'm actually leading the race. The last five laps I was pretty nervous and our tyres weren't that great. I almost forgot to shift gears as I crossed the line because I was fist pumping, I was so happy."
The previous youngest winner was Rick Kelly, who won Bathurst as a 20-year-old alongside Murphy in 2003.
McLaughlin has always been a prodigy. He raced in the Dunlop Series (the Supercars development category) as a 16-year-old in 2010, finished fourth in that series in 2011 and took the title last year. He made his Supercars debut at Sandown last year and also got on the grid at Bathurst and Sydney.
"This is massive for my career," said McLaughlin, "It shows I can mix it with these guys. It has come quite quickly - to be honest, I didn't think I would get a [podium] finish at all this year."
For one so young, McLaughlin takes a level-headed approach to his career, perhaps because he spends his days working in the team garage as an apprentice fabricator.
"We might give him the day off after a race," laughs team manager Dean Cowling, "but otherwise he is here every day from 7.30am to 4pm. He is just another one of the guys. He is involved in building his own car, welding, fitting panels. There is no swanning around and the head fabricator back at the workshop rides him pretty hard."
"Just in case this whole thing fails - hopefully it doesn't - I've got something to roll back on," explains McLaughlin, who is in the fourth year of his apprenticeship. "I tend to break stuff and because I'm the driver I get a bit of shit but it doesn't matter."
Fabian Coulthard had a day to forget. He lost pole position for the first race after officials - somewhat dubiously - declared he had hopped the kerb during the top 10 shoot-out, then, after gaining the top spot for the second race, jumped the start, incurring a 10-second penalty and ending any chance of a Kiwi quinella.
"The clutch started to grab," Coulthard said. "I didn't do anything different. The procedure is still the same but it didn't play the game. It forced me forward and I couldn't fight it so I just had to deal with the consequences, really.
"I don't think I have jumped a start any time in my career, so it doesn't feel great. It wasn't nerves - I was on pole in Melbourne and won three races there but obviously there was a systems error somewhere along the line."
Jason Bright and Craig Lowndes grabbed the minor placings in race one, while Will Davison and Garth Tander followed Whincup home in race two. Shane van Gisbergen finished fourth and sixth for a consistent day, while Coulthard recorded placings of fifth and 10th. McLaughlin was 24th in the second race and compatriot Jonny Reid finished towards the back of the pack in both races.
There are two more 100km races today before the new Jason Richards memorial trophy will be awarded to the round winner.