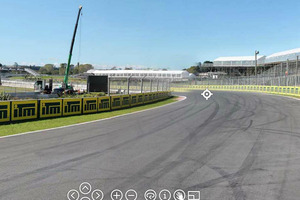 Click on the infographic for panoramic views of four key sections of the Pukekohe track, which plays host to the ITM 400 Auckland this weekend.
1) The first turn of the track where drivers will fight for position coming out of the home straight.
4) Coming into turn four, the drivers will be looking to set up a strong line before heading down the back straight at Pukekohe. This section has gone through a major upgrade with runoffs, tyre walls, gravel and sand traps, transition kerbs and asphalt surfaces all added.
5) Coming out off the back straight drivers head into turn five, part of three new turns added to the track.
8) After turn eight drivers head under the new pedestrian bridge before turn 10 and 11 lead back into the home straight.
- Infographic created by Claudia Ruiz, concept by Cameron McMillan