Citroen almost gets it right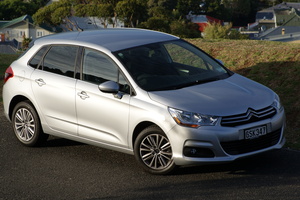 As you might know, Citroen is under new management in New Zealand. Newly appointed distributor Sime Darby aims to sell 400 cars this year, which might not sound like much - but would mean a 40 per cent growth over last year.
How does it aim to do that? Surely it must start with offering cars that put Citroen back on people's shopping lists and present a convincing case for potential buyers. Among a rationalised and repriced range, the latest C4 seems to fit the brief.
The C4 is a small hatchback that's a Volkswagen Golf rival in Europe. At $28,990 for our so-called Seduction automatic model, there must surely be a market for this model.
It's not as polished or sophisticated as a Ford Focus or Toyota Corolla, but not everybody wants a mainstream small car.
The C4 is one of the cheapest cars in this segment, astonishingly well-equipped and far from mainstream. It's French you know.
It is rather conservative for a Citroen, because the French maker has kept its avant garde ideas for the sporty DS line of models. If you're interested in a wacky C4, try the DS4 - they're both versions of the same car, albeit with different styling, engines and chassis setups.
Still, the C4 has a quiet sort of chic that sets it apart. It comes with curtain airbags, rear parking radar, cruise control with speed limiter, Bluetooth, good quality sound system and possibly more chrome than you're comfortable with.
A quality interior boasts sumptuously soft plastic on the dashboard and clear instrumentation. But points off for ergonomics, which seem deliberately random in an effort to remind you that you're in a French car. Example: the information display requires a four-direction controller/selector. You'd think a single rotary knob that also clicks inwards could handle that, but no: the C4 has four buttons (one for each direction) and another knob to select the chosen function.
The C4 is set up for comfort, with a modest 88kW/160Nm 1.6-litre engine (0-100km/h 12.5 seconds, 7.0 litres per 100km), tiny 16-inch wheels and soft suspension. Nothing wrong with that. Appealing even.
But the C4's aspirations towards smooth progress are undermined by the dreadful four-speed automatic gearbox, which definitely belongs to the old school (this C4 is yet to get the six-speeder that's been available elsewhere in the Peugeot/Citroen range for years). The "adaptive" protocol is clunky and indecisive, the shifts are abrupt and the C4 will forever be remembered at my house for being an automatic car that stalled on our gentle uphill driveway. There's only one other car ever to match that: a Peugeot ... with the same four-speed automatic.
So it's a car of somewhat uneven talents. The C4 is certainly no Golf; not even close. But it's substantially cheaper than the Volkswagen ($32,250 - a price we've all been raving about), so it succeeds in offering buyers a bit of genuine European flavour at a bargain price.
Ditch the self-shifting gearbox - which you can, with the $25,990 manual model, and you'd be onto a winner. Problem is, in this segment, nobody wants three pedals.

The bottom line
The price is right and the car is good, were it not ruined by an errant four-speed automatic gearbox. Will it help to tell you that the C4 is probably outstanding with the $3000-cheaper manual transmission?