Gleaming international stars are headed this way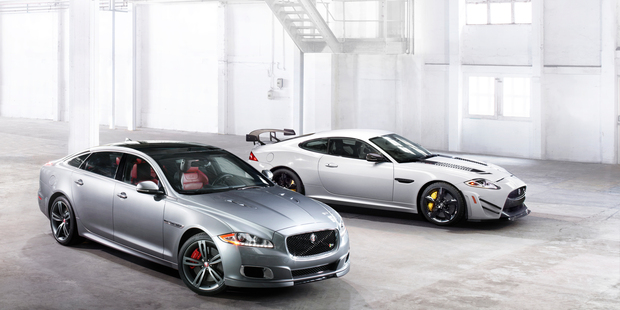 Hot on the wheels of the glittering Geneva motor show, the New York International auto show was never going to feature a massive roll call of launches and big reveals - but there was a handful of machines that we will see on Kiwi roads that I saw firsthand.
Kia, Toyota, Mercedes, Subaru and Jaguar all trotted out fresh metal that's coming here.
Jaguar XJR, XKRS-GT
We'll definitely be seeing the powered-up version of Jaguar's surprisingly agile XJ. It's a machine built for luxury, sized for those who like to spread themselves across the cockpit, and still manages to eat up corners like a far smaller vehicle, thanks to its all-aluminium construction. The new XJR adds another page to the already impressive "R" brochure, and promises to go like a cut cat with over 400kW on tap. The luxobarge market is increasingly interesting, and the new version will add "bespoke aero and chassis developments" to help harness the supercharged five-litre V8's surplus torque.
The XKR-S GT is more likely to be a special order - already priced at the upper end of the market. Already angry enough to require a lot of driver effort, the new machine will get a similar powerplant, but now that it, too, is made of aluminium, it's capable of a screaming sprint to 100km/h in just 3.9 seconds on its way to a limited 300km/h top speed. Nice.
Kia Soul
Kia's new turbocharged Koup, featured on the cover of Saturday's Driven, is a huge release for the Korean company, as is its facelifted Optima - providing even more serious competition for the Japanese giants. It also released a new version of the boxy little Soul - a quirky machine that's extremely well-liked in the United States, although it's less of a hero in New Zealand.
That said, the Soul is vastly improved over its predecessor. A higher standard of materials has been used and, says Kia's US design boss Tom Kearns, the creators lavished time on refinement while the engineers went beserk with high tensile metals to get nearly 30 per cent more rigidity. The body is still instantly recognisable, but has been given HID lights and LED tails, a longer wheel base and more width. The interior's soft-touch plastics, judicious use of carbon fibre-look materials and a monster capacitive touchscreen (the same as most smartphones) take the Soul to a whole new level.
"We took a lot of inspiration from the Trackster concept," Kearns told Driven, "and it definitely worked. We're all very pleased with the result, especially in terms of refinement."
Toyota Highlander
The popular Toyota SUV has been given a ground-up redesign - and a huge usability update - in the latest version unveiled at NYIAS. Simple touches like easy stowage in the dash for smartphones and iPods and better interior materials make the Highlander more attractive for buyers increasingly spoiled for choice in the hard-fought crossover market. It's got a new, slick trapezoidal grille and a far sportier profile, but Toyota promises significant improvements in visibility, including a reshaped A-pillar and bigger rear three-quarter windows. The Yanks get an eight-seater and the option of a hybrid, as well as a bizarre option of middle-row "captain's chairs", but it's highly unlikely we'll see them here. There's a new base four-cylinder 2.7-litre engine, which potentially could tuck alongside the 3.5-litre V6 selection. But whether off-roading or school-run crossover buyers would eschew the extra grunt for a 700cc smaller mill remains to be seen.
Subaru WRX, XV Crossover Hybrid
Subaru has helped its outdoorsy image no end with its new XV Crosstrek Hybrid. Putting a 110kW petrol engine alongside a 10kW electric motor through a CVT trans is a good start, but the XV does add 130kg to the XV, but with the electric motor handling initial acceleration before it starts burning fuel. There's a clever shutter system on the front grille that cuts down wind drag at motorway pace. The fuel claim is 8.4L/100km in the city and 6.9L/100km on the highway - not a huge improvement on the stock XV, and as it's likely to have a price premium over the petrol version, it seems like this will be one for enviro-worriers. In hybrid form, it is available in an exclusive green colour. Aww.
It is the WRX concept that is more likely to excite Kiwis given our Possum-bred enthusiasm for the rally-bred sedan. It shows the direction the firm's headed with the highly-successful flagship Impreza, modernising its design significantly. Information was a bit thin, but the pictures look pretty good.
Mercedes-Benz CLA 45 AMG
Mercedes showed off the stablemate to its fire-breathing A 45 AMG, the CLA 45 AMG, which is likely to be the entry point for AMG action. Like the little A-Class version, the CLA is priced within the reach of mere mortals, and the AMG version is no exception.
It will run the same two-litre engine as the A 45, pushing out a stunning 265kW through a four-wheel-drive system, mated to Mercedes' well-regarded 7-speed robomanual transmission. Most of the time the CLA will be front-wheel drive but, when the driver demands more performance, the power delivery is adjusted to a maximum 50/50 split. Stroppy Benz rally car, anyone?