These two SUVs, though similar on the surface, are actually designed for very different types of buyer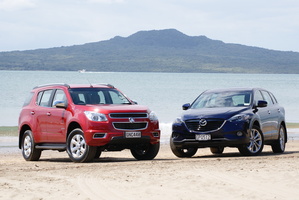 The sports utility vehicle (SUV) is the single most-popular type of new car sold in New Zealand, comprising nearly a quarter of all registrations.
So it won't surprise you to see two together on this page.
A quick look at the vital statistics and the Holden Colorado 7 LTZ and Mazda CX-9 are painfully close.
At $66,900 and $65,490 respectively they are lineball on price, both are about 5m long - the Holden just under, the Mazda just over - both provide leather-upholstered seating for seven in a 2-3-2 configuration and both have high ground clearance and four-wheel drive.
But our brace of big SUVs are not lined up for a comparison test, because that would be pointless.
The reason we've brought them together is to demonstrate just how broad the definition of an SUV can be: these are two vehicles that seem like direct rivals on paper but would never appeal to the same group of buyers under any circumstances.
I'm sure it won't cause offence to say that the Colorado 7 represents SUVs the way they used to be.
It's essentially a truck underneath, with a separate chassis, low-range transfer, three-tonne towing ability and a general air of macho purpose.
It's not entirely refined or polished on the road and is not intended to be: it's a workhorse and true go-anywhere backblocks vehicle.
If you want a more road-oriented option, Holden can offer you the smaller Captiva (the country's best-selling SUV last year).
Or you could buy a Mazda CX-9, which also illustrates the design and engineering direction most SUVs have taken in the last 15 years.
It's a "crossover", essentially a road car that looks like an off-roader. It's based on a monocoque chassis, drives through a single-range transmission and majors on luxury and high equipment levels.
Serious off-roading is simply not part of the equation.
The Holden does make some concession to on-road driving.
It's much quieter inside than the Colorado pickup truck on which it is based and the rear suspension has been modified for a less rock-hopping, a bit more cornering composure.
The live axle stays, but the leaf springs of the pickup have been replaced by coils.
Funny, but when you think about it, the crossover is the vehicle here with the real singularity of purpose.
The CX-9 is designed to be quick, comfortable on-road transport for the family and it achieves that with ease: the 3.7-litre V6 is smooth, the car is highly refined and it's loaded with equipment.
It boasts three-zone climate control, high-quality Bose audio, power tailgate and safety features such as blind spot monitoring, high beam control and a radar system that warns when you are approaching the car in front too fast.
The Colorado is a tough off-roader, but such are "lifestyle" expectations about even the toughest SUVs (utes too, for that matter) these days that it must also compromise and try hard to please as an on-road wagon.
The steering and ride are crude by CX-9 standards and the diesel engine noisy, but it handles the seal with aplomb nonetheless.
It won't whoosh up the road with an effortless gait like the CX-9, but don't forget the Holden has more torque (470Nm versus 367Nm) so it's pretty lively.
You do get showy 18-inch wheels (even if they're no match for the Mazda's 20in rims) and, just like the CX-9, the urban safety of a reversing camera.
But we said we weren't doing a comparison test, so let's stop there. The facelifted CX-9 is a pretty swish crossover.
But the Colorado has potential to be a lot of things to a lot of very different people.