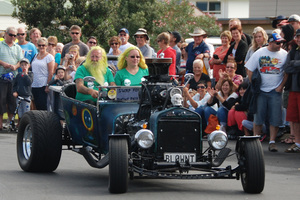 People without fossil fuels running through their veins don't quite seem to understand how wide and varied the motoring world actually is.
There's a misconception that we're just hairy bogans who drink low-rent beer and fight when we're not doing burnouts in front of primary schools; there's another that we're all poorly educated twonks with little or no idea about what exists outside of the engine bay; the list goes on - underlined by a wowser email that slimed its uneducated way into my inbox on Monday, complaining about noisy cars at Whangamata's Beach Hop.
But what became hugely apparent last weekend, when there were more motoring events running within spitting distance of Auckland than you could poke a dipstick at, is that we behave ourselves quite well, nearly all of the time.
And the common thread that runs through all of these events is an enthusiasm and passion for cars. Whether it's a lust for firebreathing hot rods, hard-tuned imports with blot-on Tupperware bodykits, stylish vintage machines or ageing classics - even weird Eastern bloc curiosities that nobody's heard of - the guts of the matter is that there's a desire to make cars better, return them to their natural glory or race them to within an inch of their lives, and these people care about their cars and fellow enthusiasts.
It's brilliant to see so many like-minded people doing what they do with a minimum of fuss and trouble. Beach Hop has had its dramas over the years, but some intelligent crowd control by the police, solid enforcing of liquor bans where appropriate, and the nature of these car people, keen to keep their event on the calendar, self-policing the dickheads and keeping everything above board. Leadfoot went without a hitch last weekend, so did Beach Hop, and the multitude of race events went without any real trouble to speak of. Those who don't believe car fans can behave themselves would be well served to attend one of the many great motoring events our fun-loving friends put on throughout the year, and compare it with a cricket or rugby fixture at Eden Park.
As you read this, I'll be on the way back from the bustling madness of the New York auto show, right into the Easter weekend lunacy - here's hoping people behave on the roads, the road toll stays low, and the foolish few don't do anything to further stifle the enjoyment we get from motoring.
Safe travels, all.