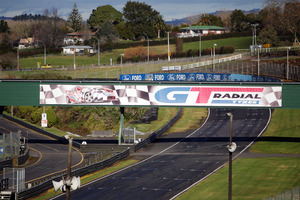 The return of the V8 Supercars Championship to a revamped Pukekohe Park Raceway next month has the tick of approval from New Zealand motorsport legend Kenny Smith.
Smith has raced on the famous South Auckland circuit every year since it opened in 1963 and sees it fitting to mark the 50-year anniversary of Pukekohe Park Raceway by welcoming back the ITM 400 Auckland V8 Supercars, following a five-year hiatus.
"Something comes to Pukekohe each year that you have just got to see and this year that's the V8 Supercars; they're fantastic those cars," said the three-time New Zealand Grand Prix champion.
"The V8 Supercars will draw a lot of people there, definitely. People are saloon car lovers mostly because you can look at the cars and think, 'I drive one kind of like that', and also the word V8 makes a big difference. People just love to come out and listen to that racket the V8s make."
Smith, who is widely regarded as a single-seat specialist despite racing 18 different saloon cars throughout his 55-years behind the wheel, is happy to see his beloved Pukekohe reach the half-century milestone.
And he is delighted that the spiritual home of motorsport in this country will receive a facelift to ensure it can play host for many more years of world class racing.
"Fifty years is a long time but I've run there every year since it all began and it doesn't seem that long to me. I guess I could probably shut my eyes now and know where all the corners are and all the bumps are at that place," he said.
"It's good to see that Pukekohe is still going strong and it's magic to see it's reached 50 years."
Local fans will have the thrill of seeing four Kiwis contest the V8 Supercars Championship races around the iconic circuit next month with Clipsal 500 winner Shane van Gisbergen joined by Fabian Coulthard and two newcomers Scott McLaughlin and Jonny Reid.
Work is well advanced for the $6.6 million upgrade which will see the track return to its international status with a dramatically improved layout and refurbished spectator facilities including new viewing grandstands and premium viewing areas.