David Linklater looks at a quarter-century of market domination in the land of the long white cloud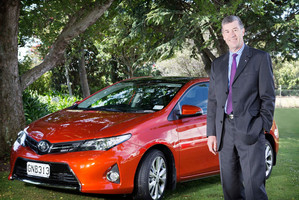 New car buyers of 2013, you are so much better off than you were 25 years ago.
So says Toyota New Zealand (TNZ) chief executive Alistair Davis, who took time out during the media launch of the new RAV4 to reflect on the company's 25 years of market leadership in Kiwiland.
TNZ took over the number one spot from Ford in 1988. For good, although nobody knew that at the time. The winning margin was slender: just 54 cars.
According to Davis, Ford management at the time demanded a recount: "They just couldn't believe we were ahead
It wouldn't have helped, blue team: for the next two years TNZ's market share rocketed up the X-axis and it would take over a decade for Ford to get close to Toyota again.
Good times: "When we first achieved market leadership, a Corolla was priced at $21,695, says Davis.
"Now a Corolla costs $33,490, an increase of 54 per cent or 1.75 per cent per year.
That's way below inflation. When you also think of all the stuff that's gone into a Corolla since then - safety equipment and so on - prices have fallen in real terms.
"To buy a Corolla in 1988 took 48 weeks of pre-tax wages. Now it's 38 weeks, so that price has fallen by 38 per cent. It's significantly better buying conditions now."
That goes not only for price but for choice. Twenty-five years ago there were just 22 car brands selling in volume in New Zealand; now there are 41.
Davis says one of TNZ's great achievements was maintaining its market leadership through the change from local assembly (often called Completely Knocked Down, or CKD) to full importation (Completely Built Up, or CBU).
"Our strongest year for market share was before CKD started to close down [in 1993, a staggering 26.1 per cent]. Once local assembly started to shut down, that became our focus - dealing with the transition from CKD to CBU.
"When we got to be number one, 88 per cent of our sales came from locally built cars: primarily Corolla, Corona, Hilux and Hiace. Today, we buy from Japan, Thailand, Great Britain and, of course, Australia."
Ford came close to toppling Toyota again in 2001, when the yen was strong and the dollar weak.
Big Australian cars were as cheap as small Japanese ones and Ford's and Holden's sales surged.
But the gap between Toyota and the rest has grown steadily ever since.
Last year - the 25th on top for TNZ - was also a year of record volume for the brand, with 22,112 cars sold.
TNZ's market share was 21.9 per cent. Second-placed Ford: just 11 per cent.
A lot has changed in 25 years. Back in 1988, SUVs accounted for just one per cent of the market; today, they are 25 per cent and growing.
But the more things change ... Corolla and the small-car segment has been ever-popular.
What else was going on in 1988? Stephen Hawking published A Brief History of Time, antidepressant drug Prozac was introduced and laser eye surgery was invented.
Big music acts were Enya, U2 and Gun'n'Roses, while popular films included Rain Man, Beetlejuice and Die Hard.
What was on the telly?
In Britain, there was a popular motoring show called Top Gear.
As it happened, 1988 was the year that a fresh-faced new presenter joined the team: Jeremy Clarkson.
Both would grow globally famous over the next 25 years, despite some ups and downs. Clarkson and the Top Gear crew recently caused a media storm in New Zealand with a visit to the North Island to film one of the show's famous adventure races.
As we all now know, for this particular race Clarkson eschewed his usual supercar for ... a humble Toyota Corolla.