Jacqui Madelin braves a menagerie to get a good look at this oft-used beauty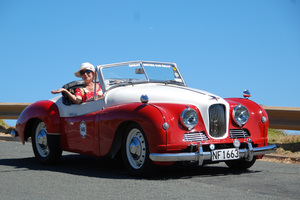 Bunty Condon seems to specialise in rescue cases - like the ducks, guinea-fowl, sheep and a pig that all found a happy home. So it's no surprise that Jezebel the Jowett Jupiter was also found ailing and needing a good home.
A friend had heard about this one, which had sat for years in an open-sided shed. "It was such a sorry sight, and filthy."
After negotiating with the US-based New Zealand owner, her friend bought the car, then restored it with usability in mind. So it has a five-speed manual transmission from a Celica in place of the original four-speed column change ("I win the club's economy runs"), a smaller steering wheel than the large metal original, and a striking two-tone paint job that, though not the original solid white, really enhances the car's beautiful lines.
Bunty passengered for a few trips, but it was driving it in a Jowett auto gymkhana and winning the ladies' trophy that fired her enthusiasm. By 2008 the Jupiter was hers.
It's an apt choice, she says, not least because they're both the same 1951 classic vintage. She pulls out the Jupiter register that lists each of the 900 cars built, highlighting those destined for New Zealand. She says 600 survive, about 20 in NZ, though not all are roadworthy.
Jowett's perhaps better known for Bradfords and Javelins, but it was the Jupiter that made headlines. Launched at the London Motor Show in 1949, it was built at the Bradford factory until 1954 and won its class at Le Mans no less than three times.
It uses a tubular steel chassis, and a 1486cc flat four engine with two Zenith carburettors mounted well forward, the rear-hinged bonnet also lifting the wings.
That motor was more highly tuned than the Javelin's, boasting a higher compression ratio and around 45kW of power at 4500rpm for a 137km/h top speed.
This is Bunty's first classic, and she's found the Jowett Car Club (www.jowettnz.net) invaluable for support and for events like the club run we're on. "It makes you go places and discover places you didn't know existed."
She's right. I joined her for a Vintage Car Club North Shore run to Wenderholm and Couldrey House, well worth a visit though not on a rainy day, as I discovered Jezebel's roof is temperamental; it took three of us to fasten it, and it still delivered interesting drips and trickles.
My first encounter was drier as we eased into the compact cabin, with its comfy leather seats, warm wood dash capped by a painstakingly-shaped piece of kauri. Bunty pressed the starter to liberate the rich, rolling purr of a large, happy cat and a pleasingly mellow roar under acceleration. The low screen and side windows deflect air while permitting effortless conversation in the cabin. Bar allowing for older brakes and occasionally temperamental starting, the car seems easy to drive; there's no power steering.
It's certainly a head-turner and a conversation starter: "Usually, they've heard of the Javelin and generally the little vans and trucks but not this model," says Bunty.
She's taken a few long trips - including three to the South Island - and says she has to make a point of taking Jezebel out in winter to keep her running. Otherwise she does the basics, like oil top-ups.
"At shows it's up with the bonnet, and I'm out there with my tissues wiping the surplus oil, and a voice will say to his mate, 'Gosh, I wish my wife would do that!' and I say, 'I'm not the wife, I'm the owner'."
I can imagine her bristling - Bunty seems every bit as feisty and stylish as her gorgeous car.