Paul Charman picks what might be the best set of wheels for the head of the Catholic Church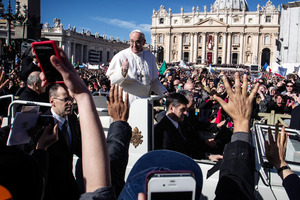 He may not have unpacked properly, but the press wants to know what wheels will get the new Pope's blessing.
This ride is a challenge for newly ordained Pope Francis, as it must meet competing needs.
Francis needs visibility and accessibility to 1.3 billion Catholics worldwide, something a media-savvy Jesuit well understands. Equally important are security, dignity of office and - for Francis anyway - a personal affection for simplicity. In his previous incarnation as Archbishop of Buenos Aires, Cardinal Jorge Mario Bergoglio chose modest digs, cooked his own meals, and used public transport.
Good luck balancing all these requirements, though there's no real urgency.
For now, the new pontiff is out and about in the model used by his predecessor, Benedict XVI - the Pope emeritus. And Benedict's old Volkswagen Phaeton, a well-respected European limo, can certainly do the job.
It's a sleek, but not particularly ostentatious bullet-proof black four-door, with tinted windows. The International Business Times noted that Francis doesn't use the 12-cylinder Phaeton that VW CEO Bernd Pischetsrieder gave his fellow German, Benedict, as a gift in2006.
Francis has ridden instead in the more sedate Phaeton 3-litre V6, a diesel-powered car noted as one of the luxury European sedans with the best fuel economy.
And, says one Italian newspaper, he even wanted his motorcade reduced to only one car, a Ford carrying a security detail of Italian police (when in Italy security is provided by the Italian authorities, while in the Vatican that's the responsibility of the Swiss Guards).
Long-term, is a V6 diesel really green enough for this humble pontiff? Probably not, and in any case, "Phaeton" derives from Greek mythology, so is a wee bit pagan.
Francis could justify two more sustainable papal vehicles - one as Pope of the Catholic Church and the other as head of the Vatican city state.
After all, Jesus Christ was associated with a donkey for the triumphal entry into Jerusalem (humility) and a fishing boat - pushed a small way onto the Sea of Galilee - for addressing crowds (security and visibility). Precedent-wise, donkeys don't cost a lot, while most fishing boats do.
So how about an electric SUV for the high-vis engagements - football stadium-filled religious rallies, etc - and a classy electric sedan for more stately occasions, dinners with heads of state, and the like?
Perhaps the EV Mitsubishi Outlander (in New Zealand mid-year) as the former and the Tesla S as the latter.
Then again, donkeys just run on oats.