The new GT3's specifications leave no doubt - this car is unashamedly built for speed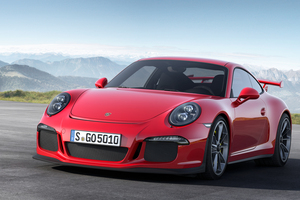 In the iconic 911's 50th year, Porsche has revealed its next no-holds-barred flagship GT3.
The GT3s have a well-deserved reputation on the track and on the autobahn - and the new car ups the technology ante yet again. It is the first production Porsche that uses active rear-wheel steering and direct petrol injection, and Porsche is promising a screaming 9000rpm redline as a result.
While the GT3 is based on the current 911 Carrera, the engine, gearbox and chassis have all been further developed to suit owners' high-performance demands .
It is powered by a 3.8-litre flat six, with a unique crank and valve train and again utilises titanium rods and pistons. The stock transmission is a seven-speed PDK manual gearbox, with shortened ratios to allow a 0-100km/h of just 3.5 seconds, and an awesome 315km/h top speed.
The active rear-steer system makes the back wheels steer in either the opposite or same direction as the front wheels, offering better agility and high-speed cornering stability than earlier models.
This is further enhanced by an electronically controlled fully variable rear diff lock and dynamic engine mounts, along with adjustable height, toe and camber on the freshly-developed all-aluminium chassis.
The new 911 GT3 may be based on the Carrera, but has unique front and rear body sections - and, of course, is fitted with the obligatory monster rear wing.
Porsche boasts that the car is capable of tearing past 200km/h in under 12 seconds. That's moving.