GP2 cars one step from F1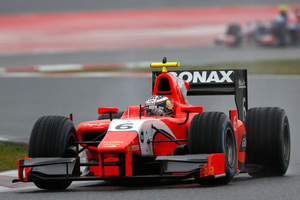 "Evans is on the cusp of making a tilt at the very crest of motorsport." The international open wheel season may have opened in January in New Zealand with the Toyota Racing Series' first round in Invercargill, but the big boys got underway last weekend.
The opening round of the 2013 Formula One season in Melbourne heralds the start of the ball rolling for many single seater championships including the all-important feeder series GP2 and GP3.
The Australian Grand Prix may not have been an edge-of-the-seat, wheel bashing passing feast, but it did throw up a few surprises. Chief among them was Lotus and Kimi Raikkonen getting their second win and looking good while doing it.
New Zealand rising single seater star Mitch Evans was at the event to get acclimatised to the heat, after testing in European winter, in preparation for the opening round of the GP2 championship at Sepang in Malaysia this weekend.
Evans has successfully negotiated his way through various formulas, winning a number of championships along the way, to be on the cusp of making a tilt at the very crest of motorsport.
Through talent, perseverance and a touch of good fortune, the Aucklander clinched the GP3 title at the last round of the championship in September last year. Now though, he has a whole new ball game to contemplate.
GP2 sits just a notch down from F1 and as such the cars are demonstratively bigger and faster than he's used to, and the talent pool is also bigger and faster. Being one of the few rookies in the field of 26 cars is hard enough, but he's also the youngest and up against drivers some of who are in their fourth GP2 season.
You don't get a gig in an F1 feeder series by being a wallflower, but Evans is realistic about his prospects at Arden International and what he hopes to achieve this weekend.
"If I can get some points in Malaysia I'll be very happy," said Evans. "That's our first goal and I'm keeping everything low key when it comes to expectations.
"There are a lot of very good drivers in the field so I don't want too high expectations. Arden are happy with where I am at the moment and we'll find out where that is on the weekend."
Evans has been good in testing working his way up the time sheets steadily to finish inside the top 10 over the three days at the last test session in Barcelona, Spain with his best time making him sixth fastest.
"It was good to test in the wet and we were really competitive in both the rain and the dry finishing inside the top-10 each time. I can't really complain about that," said Evans.
On top of dealing with the car, Evans also has to contemplate a longer season, 12 rounds instead of eight and much longer races.
"Yeah it's going to be tough both physically and mentally but I've been training hard. The cars don't have any power steering and with all the extra downforce, cornering becomes more physical. I'm happy where I am at the moment.
"It's come around quick though, I'll be speaking to you guys very soon about what my first race is like," said Evans.
As a newcomer to the series Evans will be heading to a number of tracks he's not been on before. Arriving at a new circuit has never bothered Evans in the past and now that simulators are so good, he's been getting a lot of video seat time to understand the nuances of all the circuits he'll be on.
"I've done as much preparation as I can and now it's time to get the poker game face on and go and do the best I can," said Evans.
The 18-year-old will have to be in top shape physically and mentally in Sepang. The heat and humidity are brutal and the circuit is no push over. It's long, fast and very demanding.