Hyundai ups its SUV offering in quality, looks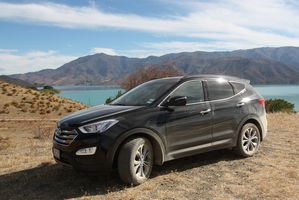 As the SUV crossover market grows faster than SBW's ego, manufacturers have no choice - get it right, or don't bother. Hyundai launched its next-generation Santa Fe last week, and as it already had a solid reputation as a capable SUV that wasn't afraid to tackle the grubby stuff once in a while, there was a serious need to deliver the goods.
Hyundai New Zealand put paid to any doubts with a launch programme that saw us take most of the Santa Fe models well off the beaten track, covering 700km in two days.
There aren't many seven-seater SUVs that would be as comfortable climbing into the mountains between Cromwell and Lake Tekapo as they would trundling down Main Street, but the Santa Fe, especially in its capable 2.2 diesel 4WD configuration, proved as versatile as the term "crossover" indicates.
The quality level has lifted again with the new generation, as has the pricetag, while Hyundai keeps up what seems like an endless cycle of improvement.
And the Santa Fe nameplate is staying, most of the range carrying an "i" designation.
"People ask why it hasn't been changed to suit the rest of the range," explained Hyundai boss Andy Sinclair. "But the reality is that it's almost a brand in itself. Santa Fe is definitely staying."
Sinclair is fizzing about the prospects of the new model, which gave an 80 per cent hit rate when previous Santa Fe owners were given the chance to preview the vehicle - and write a cheque if they were keen.
It has been improved on a structural level with high tensile steel used to further increase strength and rigidity - which also makes it feel more capable off road, and more stable on.
It survived the road (if you could call it that) between the Benmore Dam near Cromwell and Tekapo which climbs to over 900m above sea level, offering amazing views but with vertigo-inducing drop-offs, huge rocks and incredibly tight corners on cliff edges. Even on road tyres, the Santa Fe felt sure-footed and sturdy, with hill descent control and 4WD lock settings proving their worth. In most situations, the intelligent drive system will happily take care of the big decisions, distributing more or less power to each wheel to ensure maximum grip.
Even when driving at the open road limit on dirt roads, the Santa Fe was extremely easy to get along with, tackling build-ups of gravel and crisscrossing tracks without any problem at all. From Tekapo to Mt Cook - and then back to Cromwell the following morning - the mix of road quality is huge, with steep climbs and drops, coarse chip sections and many, many interesting corners. A long drive on such a variety of surfaces proved the worth of testing the Santa Fe on Kiwi roads and at the Southern Proving Ground to tune suspension for local conditions.
The model line-up, which used to live entirely under the $70,000 mark, now jumps to nearly $80,000 for the flagship, but with far higher equipment levels and materials that show the Korean giant is pushing hard against competition, particularly from its traditional Japanese rivals.
Most of the models on offer are seven-seaters, and there's the expected mix of petrol and diesel engines, but whether Hyundai manages to keep its flawless sales pace up with higher pricing remains to be seen. It sold more than 1700 over the past 12 months and has serious ambitions for the new one.
"It's New Zealand's favourite diesel wagon," said Sinclair. "It epitomises everything that Kiwis love."
Sinclair says he's got huge faith in the 2.4, but admits the new machine is unlikely to hit the same numbers as its predecessor. "It would be nice to see between 1000 and 1200 units sold."
The 2.4-litre petrol version, which has sparked the Hyundai boss' enthusiasm, is also the new entry point at $57,990. It was the only model not in the country during last week's launch event, but will be tested in Driven in coming months.
Diesel models, despite the hideous road user charges that are still foisted on owners of oil-burning private passenger vehicles, continue to be the stars of SUV line-ups, and this is no exception, although the extremely willing 199kW 3.3 V6 model, in 2WD form, is well worth a mention.
Right at the top of the tree is the Santa Fe 2.2R CRDi Elite Limited - you don't get a name that complicated without having something to back it up, and it is specified at the very highest level - with tricks like glovebox cooling, panoramic sunroof and high-end sat-nav. This version does carry a $79,990 ticket price, but there's a huge amount of fruit on board, even with all models getting tech like parking sensors, multimedia-friendly infotainment systems and more things with acronyms than you could shake a stick at.
Safety is a huge sell for Hyundai here - and Sinclair was quick to point out that the new model outperformed everything he considers a rival in ANCAP crash testing. The new construction approach certainly helped that along, but there were already five stars next to its name and the new model simply ensured the actual score was higher than everyone else's crossovers.
The interior features huge comfort levels and a tasteful mix of materials, with soft plastics dominating the cabin, and a well-laid-out dash with a large multimedia screen front and centre. There's iPod and Bluetooth connectivity throughout the range, and Hyundai has become the first manufacturer here to offer sat-nav with live traffic updates via SUNA. The SUNA service is available only in Auckland, Wellington and Christchurch, but Hamilton and Tauranga join soon.
A couple of days at the wheel of the newest Santa Fe underlined just how far Hyundai has come in a relatively short time. This is the third generation (the company spiel calls the last facelift 2.5) and it has grown up; it's slightly larger, slightly lower and still has enough ground clearance when you're feeling a bit country. It's a versatile machine that has the abilities to match Sinclair's "Kiwi epitome" statement.
While the high-level bling that graces the top model is impressive, the pick of the bunch is the 2.2R CRDi Elite ($73,990) with the infinitely able R-Series diesel that continues to impress with its 144kW/436Nm returning mileage solidly in the 7L/100km range.